Age Restriction Laws Are Changing In The UK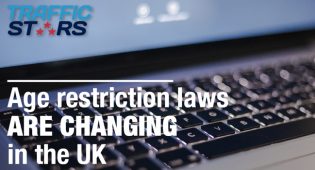 The UK is the first country to introduce an age-verification requirement for all adult content websites. The plan, initially announced in in July 2017, is reported to have been pushed back until "the end of the year".
The legislation – which was designed to protect children and vulnerable groups of people from easily accessing "harmful content" online – might have the power to affect adult entertainment consumption worldwide, as other nations are watching and waiting to see the results of imposing, stricter internet regulations.
On the upcoming roll out of age verification legislation in the UK, webmasters are free to choose which sort of tools they will use to comply. Though there are concerns that the system could create giant databases of people accessing adult websites, there is also a general consensus that more needs to be done to protect underage viewers from accessing this content.
TrafficStars' Managing Director Peter Rabenseifner said of the legislation, "TrafficStars acknowledges the importance of safety online – especially regarding protecting minors from accidentally viewing sensitive content. As always, we stand by our publishers and will support them through any changes in legislation, to continue providing a world-class service to both our advertisers and publishers, and ensuring a great experience to all users".
Despite any uncertainties still surrounding the matter, TrafficStars partner website, xHamster, is working to comply with the system.
"We will be vigorously complying with the new age-verification system in the UK, and will be working directly with our advertisers and publishers to help them conform to the regulations," says Alex Hawkins, VP of xHamster. "Adult companies should be working to prevent minors from accessing adult material. We share concerns of many free speech advocates that these specific regulations may screen out large numbers of legitimate adult users, and result in privacy violations. But we are also realistic – the Digital Economy Act goes into effect this year. No matter what the challenge, TrafficStars will continue to deliver high-quality, age-verified traffic to our partners, publishers and advertisers."
Comments are closed.