Analysts: Cryptocurrency Values to Fall by More than Half in 2015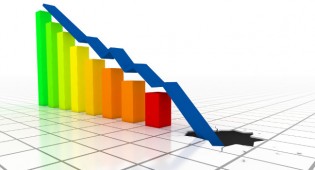 HAMPSHIRE, England – The value of cryptocurrency transactions is expected to plummet by more than half in 2015, compared to the market's value last year. According to analysts at Juniper Research, exchange collapses, theft and regulatory concerns about the role alternative currencies play in so-called "dark web" transactions will send Bitcoin and the rest of the market spiraling downward from more than $71 billion in 2014 to slightly more than $30 billion this year.
According to the report, the surge in altcoin transactions in 2014 was overwhelmingly attributable to brief spikes in activity during the first quarter in Dogecoin, Litecoin and Auroracoin. By the end of the year, daily dollar values of the transactions were at less than 5 percent of their earlier peak.
However, the report also noted the introduction of licensed, regulated exchanges could lead to a stabilization in currency values and with it an increase in retail transaction adoption. Analysts pointed out that in an unregulated marketplace, consumer confidence has been eroded by the demise of the Mt Gox exchange in February 2014 and the recent theft of nearly 19,000 Bitcoins from BitStamp hot wallets.
Nevertheless, despite PayPal beginning to allow U.S. consumers to purchase digital goods via Bitcoin, the report argues that the scale of the challenges facing Bitcoin is so great, the most well-established cryptocurrency will struggle to gain traction beyond a tech-savvy and/or libertarian demographic.
Dr. Windsor Holden, author of the report, compared Bitcoin's struggle to "making [a long] journey blindfolded, clad only in underwear and being pursued by assorted cheetahs, mountain lions and wolves. While also under heavy weapons fire."
"We tracked Bitcoin — and a basket of [other] fiat currencies — against the U.S. dollar between December 2013 and late-January 2015," Holden noted in a post on Juniper's Analyst Xpress blog. "At the end of the period, Bitcoin stood at 23 percent of its December 2013 baseline, compared with the [British] pound at 93 percent, the euro at 84 percent and the rouble at 49 percent. When a currency makes the rouble — given its recent travails — look a relatively sound investment, then one might hesitate to exchange one's existing notes and coinage."
The report identifies a potential bright spot for cryptocurrency protocols in the wider payment space.
"It is likely that we will see the technologies behind cryptocurrency deployed in areas such as real-time transactional settlement," Holden noted in a prepared statement about the report. "Ripple Labs is already focusing overwhelming on that approach, and in the medium term we may see a role evolution to this end amongst other cryptocurrency players."
Comments are closed.