Angell Summers: Sexy, Smart, French
[COLOR=red]Exclusive to YNOT Europe[/COLOR]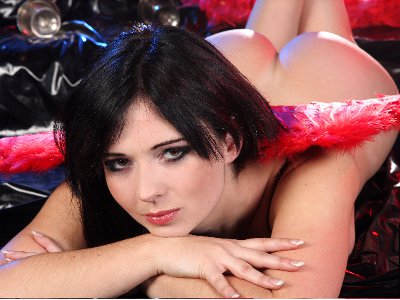 YNOT EUROPE – Earlier this month, French porn actress Angell Summers received the SHAFTA Award for Best Foreign Performer, emerging victorious over Andy San Dimas, Carla Cox, Aletta Ocean and Sofia Valentine. The competition was fierce, and being a relative newcomer to the adult industry, Summers was extremely happy to be chosen for the honor. Previously, she received the 2010 Hot D'Or for Best French Starlet.
Photo model, stripper and now acknowledged as a porn star, Summers retains a genuine ebullience uncommon in the adult industry. Ever curious and terribly seductive, she honestly enjoys new experiences and new partners. Now that she's playing in the big leagues, doubtless she's destined to find more of them.
YNOT Europe: Your career seems to have unfolded very quickly. Can you give us a summary?
Angell Summers: I started by creating an amateur blog, but nothing trashy. Very quickly, I did a first professional shoot, and then I attended the sex fairs for nearly two years. Meanwhile, I also attended two film shoots as a mere extra. This allowed me to meet professionals, fueling my desire to become a porn actress. But I waited for power to do things better so I would have every chance to succeed. On May 8, 2008, I shot my first major porn role, and then everything went very quickly.
I hot a few leading roles, and then I went abroad several times. Then I posed for a lot of magazine titles. I received the Hot D'Or for Best French Starlet in October 2009, and I received the SHAFTA in London in March.
Who are the people that have influenced you most: directors, actresses, friends, etc.?
In my professional life, I think John B. Root is the one that counts most. He gave me one of my best roles. In addition, he is a person I greatly appreciate. Then I always had a very good relationship with the magazine Hot Vidéo. They followed me from the beginning, and I love working with them since they are pros.
More personally, I must say that the person who has the biggest influence is my fiancé. He did not pressure me to do porn, but on the contrary supported me when I did soft shoots. And it's huge to have someone who accepts both my profession and who is there when I return after several days or weeks of filming. My family is very supportive.
You started your career as a blonde, then you became a brunette. Has this transformation brought you new opportunities?
Mostly, I changed my hair color for a role, but changing any part of you changes the rest of you. Blondes and brunettes are not viewed in the same way. I discovered something about myself as a woman.
Since the second half of 2010, you have spent much of your time in Eastern Europe and Great Britain. Which filmmakers have you worked with there?
For Great Britain, I worked twice for Harmony with Tanya Hyde and also twice for Television X with Kevin Grant. I went to Budapest for 21Sextury to perform on the sites Dominated Girls, Teach Me Fisting, DP Fanatics, Pix and Video, and Nude Fight Club; Brazzers for the site Mofos; Reality King for the sites Mike's Apartment and Euro Sex Parties; DDF Productions for the site Hot Legs and Feet.
I also went to Mexico for the magazine Xtreme, and soon I will be shooting in Germany.
Nice resume! And what kinds of scenes have you shot?
The advantage abroad is that you can do all kinds of lesbian scenes, fisting, DP, glamour, fetish, threesome…. But it is true that overall, I was in harder scenes and more fetish material in Budapest and London than in France. I was less familiar with the industry then; more naïve. It did not hurt my fresh image, even when I was blonde.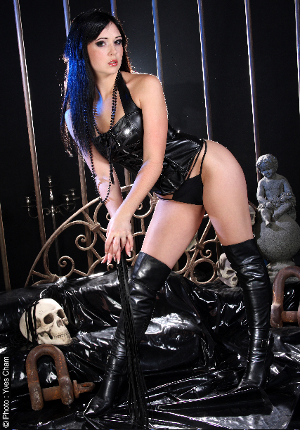 You have received high praise in the UK, as evidenced by the SHAFTA award. How do you feel about that? We take this opportunity to congratulate you, of course.
I was quite surprised, because I've only shot four times out there, and only two of those times were for Television X, which gives the SHAFTAs. I did not think those two scene would have much effect, but still I received two direct nominations, for Best Female Foreign Performer and Best Foreign Sex Scene. Indirectly, I was a cast member in a nominated film, Euro Anal All-Stars. I am very happy with these nominations, but I'm ecstatic to have traveled to London and brought back an award for France! In all honesty, I was not expecting it. I told myself that at best I could get an award for Best Sex Scene, because the competition was heavy in the category Best Foreign Performer. This award is proof that I am liked abroad, and that's great!
Am I wrong if I say that your career is moving towards more hardcore shoots?
Indeed, my scenes have evolved and have become harder.
Why this choice? Do you see it as an experimental side, or a desire to grow in performance? Do you feel like you excel in harder material?
It's not really a choice, but more a logical evolution. I always did what I wanted, and after a three-year career, I think it normal that my sexual desires change. I want to try new things, to go further.
At first, when I started, I thought hardcore is not for me. When I changed my mind, I naturally wanted to experiment. I think that helped me become recognized as a true performer. I tried bondage, fisting, normal DP, vaginal and anal DP, and lots of other things. Now, my repertoire is more comprehensive: I can do both softcore and hardcore, glamorous and trashy.
In fact, you are very veratile. Do you choose the movies in which you appear? Do you ever reject proposed shootings? Why?
Yes, I always choose for whom I work. My choice is different if the shooting is happening in France or abroad. For France, there are people who simply love to work. When I work for them, I know I am with the pros. The atmosphere will be good and the result has a good chance of pleasing me.
It's different when I work abroad. Mostly what they shoot is gonzo, but they know how to be professional and the offers of work are frequent. I always look at their website to find out what they're going to require. One way or another, I give my conditions from the outset. I can refuse to shoot when practices do not suit me — their styles, their projects do not fit me — and when financial conditions do not suit me. I am strict about it, but at least I respect myself and do not make scenes for three times nothing.
It seems you do not leave anything to chance. Is this your way of approaching this business as a whole?
It is true that I am very outspoken, but it was always like that in all my jobs. I like knowing where I am going, and I succeed in what I do. Maybe some people, especially in France, do not understand this way of seeing things, but I think my approach is why I am successful. I enjoy most of my scenes, I love sex, but I need to approach porn like a real job. That's the only way I can give the best of myself. And at least people know they can count on me.
With which actors and actresses would you like to shoot a scene?
I would love to shoot with Katsuni, because long before I started she was already my fantasy. There is also the actress Kayden Kross, whom I met in Las Vegas. She is beautiful and very sweet. On the male side, I would like to do another scene with Manuel Ferrara, because our first scene together was…. How to say? Yum!
Do you have any American projects on your schedule?
I hope to move very quickly to shooting the USA, actually. For me it is a logical continuation of my career, but again, I'm serious and I want to go with everything you need to do your best work in good conditions.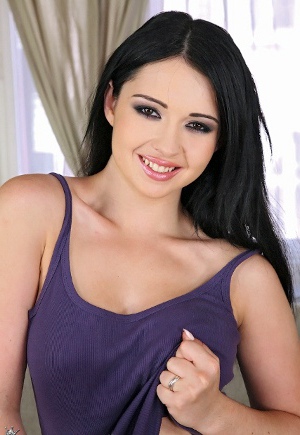 What do you plan for the future?
Of course a trip to the United States. I would also like resume doing nightclub shows, because I started with shows in the erotic room and I miss the interaction. It's a lot of fun doing that. And as I do more shows, the shows in discotheques allow me to meet my fans. Second, I do not know for sure yet, but I hope to continue for another two or three years minimum in the XXX business. Beyond that, I have not thought about the future.
Do you spend much time online with your fans, on blogs, social networks, etc.?
I think for a porn actress the internet is essential, because we are rather marginalized by other media. For my part, I have a site at AngellSummers.com where all my photos and videos are available, my press, my complete filmography and biography. And I'm adding updates all the time. I also have a blog that is more a diary of my adventures in porn. I talk about my shoots, my travels, and I post all kinds of hard photos and behind-the-scenes material. I am also considering DVD releases and magazines.
I answer all comments and emails personally. Of course, I am also on social networking sites. I have a Twitter account and am on Facebook with a page under the artist name Angell Summers.
Anything you'd like to add?
Thank you first for allowing me to speak to the readers of YNOT Europe. It's always gratifying to be interviewed, and I always take special care to answer questions diligently. And a big thank you to my fans. I cannot say enough about the fans who follow me, because they are largely the ones who make me who I am today. I urge everyone to follow me closely, because I'm here and there. I like to surprise people, so you never know what I might do next.
Huge kisses to all!
Comments are closed.