Anna Polina: Marc Dorcel's New Ambassador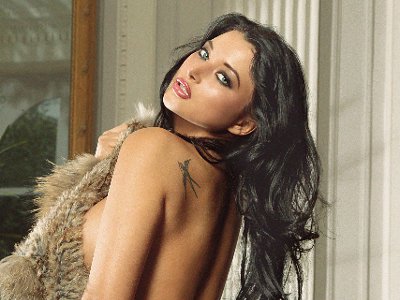 YNOT EUROPE – Marc Dorcel has signed an exclusive contract with the young actress Anna Polina. While in the U.S. contract girls abound, in France Marc Dorcel is the only adult entertainment company to sign performers to an exclusive contract.
It all started in 1995 with Laura Sinclair, the first Dorcel contract star. Then came Melanie Coste, Priscila Sol, Oksana, Yasmine, Melissa Lauren, Mia and Jade Vendome Laroche.
Each forged a different career path and remained for different lengths of time, but they helped build Dorcel into one of the most prestigious companies in France and abroad.
In 2011, the role of ambassador is given to Polina, who is barely 20 years old. Originally from St. Petersburg, Russia, her face combines the perfection of a doll with the intrigue of a femme fatale, and her Slavic charm is undeniable.
After a chaotic start in porn in 2008, Polina realized her desire to become a XXX actress was stronger than anything else. After working in a few Christian Lavil films for Alkrys and Fred Coppula, she exhibits outstanding sex skills.
Chosen by Hervé Bodilis to appear in Mademoiselle de Paris, the film co-produced by Marc Dorcel for the internet, Polina is immediately noted for her physique, his lovely face, her fiery eyes and her enthusiasm when shooting hardcore scenes.
Polina spoke with YNOTEurope:
YNOTEurope: Hello Anna. Will you introduce yourself to our internet readers?
Anna Polina: Sure! I am 20 years old, and I live in Paris where I was a student. But I'm from St. Petersburg, Russia.
When you walked into the adult entertainment industry, was it for fun, fantasy, or did you really want to become a famous porn star?
At first, it was mostly to satisfy my curiosity about the conditions of filming XXX content. It was more a game, and I saw it mostly as an experiment. That's why, after three shootings, I preferred to stop to accept only occasional bookings. I changed pseudonyms several times. I became hesitant. I think I was not quite sure of my choice. My motivation has changed during the past few months, and I felt a real desire to continue in the adult industry.
In December 2010, you signed an exclusive contract with Marc Dorcel. Congratulations! What are the first movies you'll appear in?
Thank you! I had the pleasure of meeting Herve Bodilis in early 2010 and making a lesbian scene with Suzie Carina for Fuck VIP Luxury, and then I was contacted to appear in Mademoiselle de Paris, the first film co-produced for the XXX internet .
When you started to perform in adult, did you expect to sign an exclusive contract?
When I started, I did not want to make a career in porn. The idea of an exclusive contract did not occur to me. However, when I decided to fully invest myself in the XXX industry, it is true that I was thrilled to get a foot in the Dorcel studio's door. I myself am very thankful! At this point, I really want to have the opportunity to work exclusively for Marc Dorcel.
It's a very nice opportunity. How are you approaching it?
I am thrilled and excited. I realize this is a great chance to represent the Marc Dorcel company. I want to make a successful career in the XXX business, and becoming Dorcel Girl enables me to turn in quality films that reflect an aesthetic that has appealed to me for a long time.
As Dorcel Girl, what will be your role, in addition to filming? You shall surely travel to media, did you already have a tentative plan? And if so, can you tell us about?
My role is to represent the house of Marc Dorcel and be his ambassador. So yes, in addition to filming I will attend trade shows in France and abroad. I plan to do shows and actually also be present in the press to represent Marc Dorcel in the media. My schedule is not yet fully defined, but my first film as a Dorcel Girl is expected very soon.
The exclusive contract with "the King of French Porn" seems a perfect fit for both Polina and the studio.
Photo: Marc Dorcel
Comments are closed.