Puma Swede Launches Signature Toy Line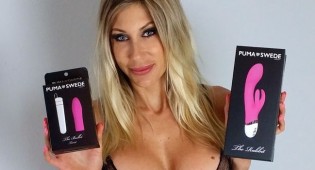 STOCKHOLM – Swedish adult performer Puma Swede has launched an eponymous line of adult toys in partnership with Swedish manufacturer Freyja Toys. At launch, the new line consisted of a rabbit, a vibe, a bullet and a ring. A wand is reportedly in development.
The line will be marketed under the brand name Puma of Sweden.
"I am thrilled to have my own toy line," Swede said. "Having been in adult for over 10 years, I have worked with countless dildos, vibrators and toy products. I am on cam online so much that new toys are indispensable.
"When I was approached about developing a new line, I was personally involved in the look and feel — and more importantly, the testing," she continued. "The line has something for everyone. I travel a lot so I made sure to include a couple of smaller toys to take on the road.
"I am happy to do my part bringing more orgasms to people around the world. The new toys are durable, look awesome and have a lot of power when you need it. I hope people like them as much as I do."
Swede is popular worldwide but is especially well-known in her home country. Her autobiography, My Life as a Porn Star, was a bestseller in Sweden. She has appeared in mainstream television shows including Swedish Hollywood Wives and Dubbel D in LA. She also played Skankenstein in an episode of Sons of Anarchy.
Comments are closed.