Berlusconi Appeals Underage Sex Conviction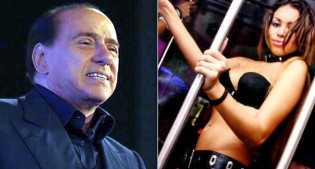 ROME – Former Italian Prime Minister Silvio Berlusconi on Thursday filed an appeal of his mid-2013 conviction for paying an underage stripper for sex and then abusing his official power in an attempt to cover up the scandal.
Italy's "Teflon politician" has evaded conviction or had convictions overturned on appeal in all but two of the 32 criminal cases filed against him since 1989. The other standing conviction, for tax fraud, was confirmed by Italy's highest appellate court in 2013, leading to Berlusconi's ouster and lifetime ban from public office. Regardless, the 77-year-old media tycoon continues to lead the country's Forza Italia party.
Berlusconi's attorneys said the appeal of the underage prostitution conviction will center on a lack of evidence to support the charges. It is unclear whether Karima El-Mahroug, an exotic dancer known as Ruby the Heart Stealer who was 17 years old in 2010 when Berlusconi allegedly paid her for sex, will take part in the appeal.
El-Mahroug, of Moroccan-Italian heritage, has admitted accepting "hush money" from Berlusconi but continues to deny any intimate involvement with the then-prime minister or any other rich, old men with whom she is acquainted.
"OK, so I might have done some erotic dancing in bars, but please don't misunderstand — that was for exercise only," she told an Italian court in late May 2013. "I don't know why people think we strippers are up to anything immoral. We just dance on a stage.
"I blame the media for making a big fuss out of nothing," she added. "When this so-called scandal broke, Berlusconi said he could cover me in gold if I didn't say anything. And he gave me five million euro. But that was because he felt sorry for the bad publicity I got, and which he knew was 100-percent untrue."
Berlusconi was convicted the following month. The resulting seven-year prison sentence is on deferral pending outcome of the appeal.
Comments are closed.