Be A Bimbo Accepting Preorders for New Black 'Fuck Doll' Croptops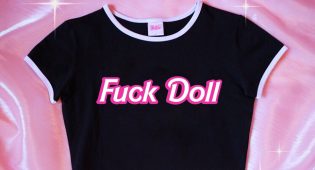 Alicia Amira continues to expand the Be A Bimbo clothing line, with the next addition being a black Fuck Doll croptop, which is available now for preorder.
Earlier this month she unveiled the California Dream collection of clothing, pendants and hairpins, and she is ready to follow that up with the black version of one of the company's most popular items. Take a look at the Twitter accounts for Alicia or Be A Bimbo and you will see countless beauties who have posted posing in their pink Fuck Doll croptops. Soon those same croptops will be seen throughout social media but in the new color.
"As much as we are trying to create new things, we also listen to what people want and pay attention to what is moving," Alicia said. "We've been very lucky so far across the brand, but a black Fuck Doll croptop has definitely been one of the leading requests while pink was already a top seller. I've seen them already and they are absolutely beautiful."
Alicia is the founder of Be A Bimbo and the movement to take back the term "bimbo," part of her effort to help end shaming for one's sexuality.
"Whether you're working within the adult industry or just tired of being judged for looking hyper-feminine, Be A Bimbo is here for you," Alicia said. "We want to empower women, femme, trans, and everyone else to take ownership of their sexuality."
Preorder your black Fuck Doll croptop at BeABimbo today.
Companies, brands and talent interested in business collaborations with Alicia Amira and Be A Bimbo should email corporate@beabimbo.com.
Comments are closed.