Alicia Amira Reveals Her Personal Story, Challenges in Bimbo Life Blog Debut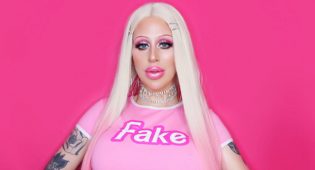 Outraged by Instagram's recent steps toward obscuring or outright censoring sexual content and hoping to connect with likeminded women, Be A Bimbo founder Alicia Amira has kicked off a new blog called Bimbo Life.
The first column is titled "Becoming Bimbo" and it's her fascinating tale of how she transformed her life from a regular girl to the world's foremost Bimbo. She writes that it was the most difficult thing she had ever done. Her life had always been easy – she had money and friends – and she'd never encountered any real obstacles. The first challenge was the day she chose to dress how she wanted.
"It's not an exaggeration to say that nothing in my life had been challenging until the day I chose to dress how I wanted, do my hair and makeup how I wanted, and work with what I wanted," Alicia writes. "Isn't that just ironic? Once I became a bimbo, I was met with more judgment than I had ever encountered before in my life. And from that judgment came a realization: It's about time someone stood up against this. It's about time we stand up for our dreams instead of pretending to be someone, or something, we are not!"
All of her work with Be A Bimbo and the related ventures are all about empowerment and shattering stereotypes. She was outraged that people suddenly thought she was stupid because she'd changed her clothes. The judgment over bigger boobs or blonder hair or dressing sluttier was outrageous to her. She decided to live life the way she wanted to and to encourage others to do the same. That's what Be A Bimbo is: thinking for yourself and shattering the stereotypes society is so eager to put on the individual.
"Be a Bimbo is a movement of utmost importance for women like us everywhere," she writes. "Together we can end the stigma. Together we can create a world where a woman can be proud to be a woman, proud to embrace her femininity, and proud to take ownership of her own sexuality without anyone thinking less of her."
Check out the new Bimbo Life blog.
Join Be A Bimbo and Exotic Cancer in fighting censorship by picking up one of their Stop Censoring Sluts croptops and/or limited edition art pieces as well. Don't forget to use the #stopcensoringsluts to show your support for the sexy on Instagram as the social network takes ill-conceived aim at women showing their sexy sides.
Companies, brands and talent interested in business collaborations with Alicia Amira and Be A Bimbo should email corporate@beabimbo.com.
Check out Amira's controversial article "This Body Modder Wants to Turn Herself into a Sex Doll" in VICE.
Comments are closed.