British MPs 'Research' Online Porn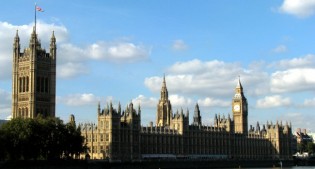 LONDON – In vigorous support of British Prime Minister David Cameron's call for web filtering, British members of Parliament and their staffs have been doing their best to research the scourge of internet porn firsthand.
In fact, according to The Independent, "More than 300,000 attempts were made to access porn websites at the Houses of Parliament in the past 12 months. That's an average of 820 times a day. That's a lot of busy wankers."
One must admire the spirit with which reporter Grace Dent approached covering the issue.
"Top of the league in the publicly funded work-frottage league was November 2012, when porn was accessed 114,844 times," Dent wrote. "How can one speak confidently about the perils of porn if one has not fully immersed oneself in the culture? One time, or two times or, well, 114,000 with your trousers round your ankles and a big filing cabinet against the door?"
Dent's report also revealed MPs and their staffs made 83,000 visits to the online betting site Betfair.com and more than 50,000 visits to "casual dating" outpost OutofTownAffairs.com.
"Betting, bonking and masturbating, whatever is going on here it's not exactly 'work' as a human resources department would specify it, unless you work in a human resources department in a porn film," Dent concluded.
As might be expected when elected officials are called out in public for apparent hypocrisy of the highest order, a House of Commons spokesperson simply raised one disapproving brow and dismissed Dent's statistics in terms that lent new meaning to the time-honored phrase "double-speak."
"We do not consider the data to provide an accurate representation of the number of purposeful requests made by network users," she said.
Comments are closed.