Cosfans First Ever Clips site developed exclusively to serve the Cosplay community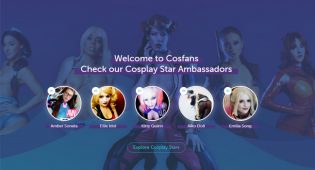 Barcelona, ES – Cosfans, a site developed to service adult-themed Cosplay stars and their fans, was launched on March 1st and has seen widespread adoption. Owned by CM Productions – the same company behind BaDoink, BaDoinkVR, VRCosplayX and Cliptopia – Cosfans.com has seen 50 leading Cosplay stars join the site already. Justin Byson, CEO of Cosfans highlighted "it's obvious that we are filling a need for the Cosplay community, and that really excites us".
Cosfans aims to provide the most authentic experience for the Cosplay community, promoting transparency and staying true to the mission statement of providing highquality content and allowing models to create stronger bonds with fans. Cosfans takes a 'community-first' approach, involving models and fans in both the design process and long-term roadmap of the site. Netherlands based Amber Sonata, announced as the first Cosfans spokesmodel, cited the brand's commitment to developing a platform that "ensures models have the best resources and features available" as a key reason behind her decision to join the team.
The launch of Cosfans marks the first step of the company towards meeting its goals of providing content and interaction to the growing adult oriented cosplay community. Byson added "We see a need for a resource that is authentic to the cosplay community. We're in constant communication with our models and fans to find out more about their desires and how we can best serve them". Cosfans users have much to be excited about with Model contests, Fan giveaways and further episodes of its webinar series 'Cosfans LIVE!' all lined up for the coming months. The site currently features Custom Clip features in addition to Crowdfunds, where fans are able to contribute towards a Model's projects, typically travel expenses to a Conference or materials for a new cosplay. Models and Fans can join Cosfans.com free of charge. Contact the team on Twitter at @CosfansCom.
Comments are closed.