Demi Sutra stars in VR Bangers "Yoga Sutra"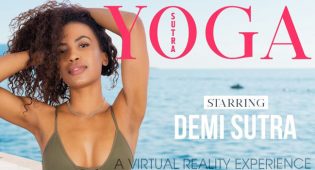 Yoga is something that everyone has heard about, however the statics show that most of us have never tried our strengths in this mystic art. It is never easy to break the entry barrier of an entirely new sport, and it only gets harder when we are talking about something that needs a lot of focus and flexibility. VR Bangers, one of the premium virtual reality porn movies' makers have decided to bring this topic a little closer to their viewers, using it as a source of inspiration for their newest VR porn film. In the Yoga Sutra VR porn video, every member of the VRB's family can try his luck in this spiritual discipline in the latest "yoga guide" provided by the producers.
Even though there is a whole lot of similar tutorials all over the Internet, rarely any of them is made inside of immersive virtual reality – the technology of the future – not to mention that VR Bangers' make their contents in full 6K ultra high definition, which is a resolution that is still practically unused by the producers of VR experiences.
"Yoga and porn? It turns out that these things fit each other just fine," said Alex Nash, the producer of VR Bangers. "This VR porn movie begins like a typical yoga tutorial, gaining momentum with time – when Demi is losing more and more pieces of her clothing – and turning into a sexy VR porn fantasy in effect. Physical contact is always sexy and we are happy that we keep on turning such activities into kinky adult movies that our fans can enjoy and play with."
The Yoga Sutra VR porn film will not teach you any advanced yoga techniques, but will get you through some basic moves while slowly turning into a full-time adult movie in virtual reality. Demi Sutra is well-known for being a natural talent and moving freely in front of a camera, so when she performs in a role that she is familiar with, it only gets better and more sensual for VR Bangers' fans.
"I am pretty sure that as soon as you will find out who is starring in this VR porn movie, you will in no time understand how we came up with its name," adds Nash. "Demi Sutra was presumably one of the best picks for such a VR porn fantasy, as she is really flexible and we found out that she does a lot of yoga in her private life. She did really great and we are more than happy that we chose her – our viewers can now see the effects of our cooperation with her as the scene is already available online."
You can watch this VR porn movie in 3D 180°by going over here, and if you'd like to view some other VR Bangers' productions in HD, 4K or 6K UHD, make sure to visit their main page,here, as well.
Comments are closed.