Dunia Montenegro: the Brazilian Hurricane Who Conquered Spain
[COLOR=red]YNOT Europe Exclusive
YNOT EUROPE – No one who has seen Dunia Montenegro perform live is surprised by her overwhelming success as an actress. Not only is her curvy body dizzying, but she acts with every inch of it — including her equally expressive face, which can convey everything from angel to demon.
Born near the beaches of Copacabana in Rio de Janeiro, at age 18 Montenegro was offered a contract to dance in Las Palmas de Gran Canaria in Spain. After that, she abandoned the idea of becoming an architect. In the world of porn she has worked with top directors such as Rocco Siffreddi and has participated in numerous productions with the prestigious producer International Film Group (IFG). She also has provided live entertainment during the best international festivals in places as diverse as Milan (Italy), London (U.K.), Lisbon (Portugal) and Las Vegas (U.S.).
Conventional filmmakers discovered her talent, as well. Montenegro appeared in 25 kilates (25 Carats) with Patxi Ames and in Biutiful, directed by Alejandro González Iñárritu and starring Javier Bardem. She also co-starred in the series Amazing Mask, playing the villain Brown Sugar.
She has received awards like "Ninfas" (from Spanish adult organization FICEB) and Proporn (Best Web). She currently works only "on projects that especially excite [her]," preferring to focus on directorial efforts for Leche69.com in addition to organizing castings.
YNOT Europe: There once was a Brazilian beauty who came to Spain from Rio de Janeiro and…. The rest is history, right? Can you remember it all?
A story full of adventure! But long…. In short, I got to Rio with a dance company, worked as a showgirl in the Canary Islands, fell in love, got married, set up an entertainment company…. Years later I closed it, I got divorced and, well … there began the most morbid days of my life: Go-go, stripper and finally porn. I entered all for fun and ended up living in them, without ever planning to do that. It has been seven years since I made my first adult film, and I have not stopped working ever. I have had great luck, being in the right place at the right time with the right people.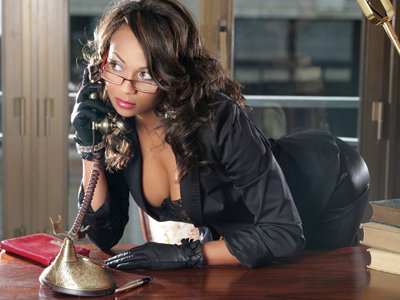 Do you already speak Spanish when you arrived in Spain?
Yes, because my mother lived many years in Argentina before she died. We spent two months in Buenos Aires and two months in Rio de Janeiro. I spent 15 years listening to Spanish all day, and I was going crazy. "Mom! Why do I need to know how to say this?" Hahaha. That beautiful woman gave me a very wise answer: "Someday you'll understand, daughter." And look! Always listen to your mother.
What did you find most difficult along the way?
Hm…. Every time I ran into complications, I knew that to get somewhere I had to give everything. If you strive forward and you are consistent, success will come sooner or later. In my case, I never expected anything in return, and therefore I was surprised by every achievement as a kid. I respected famous artists, and I knew that if I worked hard, someday I would become like the stars I admired: Bibian Norai, Eva Morales, Sophie Evans….
How did you feel when you shot your first scene?
I was working as a cleaner in hotels and a waitress, but they sent me a ticket to go to Malaga and had a driver waiting to take me to a nice restaurant with a team of fun people. And I had to have sex with very attractive, very experienced men. They taught me so much in just one day, and I enjoyed everything like crazy. I could not have imagined any of it 160 hours before. Doing what I love to do … it was a bargain! It made me a star and I earned lots of Money. Now I only do what I want to do.
Did you start out with girl-boy scenes, or would you only perform in girl-girl scenes at first?
I started in what might be called "extreme" scenes: a threesome with two guys, double penetration, double vaginal, whew! I went crazy. I had always wanted to try that in my private life.
What did your partner have to say about that?
When I started in porn, I was single. Andrea Mornaty warned me, "Do not fall in love, have no boyfriend, choose money over relationships!"
What was the most rewarding scene in which you starred?
Hm. I think it was a gang-bang with nine guys for my website. I was a bit of a slut. When I get excited a lot, I lose any notion of pain, of limits, of everything!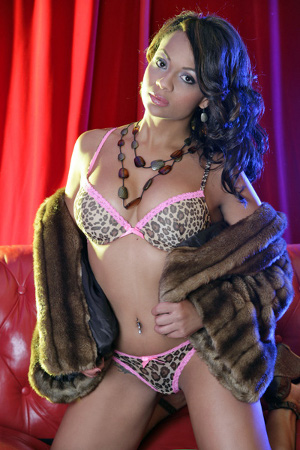 As a director, what do you ever ask an actress to do?
I will never ask an actress to do something I won't do. Never! Actresses almost never ask men not cum on their faces, and that makes little sense to me. As a woman I know well how they feel, and I know when they pretend. "Use a vibrator. Put it on the clítoris, and it will be more fun," they say. It is very important to me that both performers enjoy sex. If the girl is only there for the money, I become anxious. Fortunately, in Spain, that almost never happens. All are driven.
Is it difficult for a woman to direct actors with big names, egos and muscles?
Hahaha! Hm. When a well-known actor is so involved in the scene that he can't say anything, it is a treat! It is then that I don't have to direct, just capture everything they are doing. I recently directed Max Cortés in a scene spoofing Shakira's song "Crazy, Crazy, Crazy," and I would love to have actors like that in all my scenes. With his experience and me encouraging the girl to enjoy every moment, it would be very sweet.
Whom do you admire?
In Spain? Erika Lust, Roberto Valtueña, Jose Rios, Salvador Diago, Rebeca Linares.
A girl as liberal as you … do you have any "taboos?"
Uff, very many! More tan you might believe. In a formal relationship, I am the most conservative person you can imagine. On the other hand, for my "alter ego," my "stage personality," anything goes. When I let Dunia out, she is very liberal. She tells all men when they get to a certain stage: Do not expect a girl who can be faithful except at work, a girl who does not like threesomes or anything like that.
You are one of the most active bloggers and Twitterers on the erotic scene. How many hours do you spend at the computer each day?
Hahaha! Many! If only I have eight hours to sleep, I almost always prefer to sleep for four and spend the other four in my tasks on the internet. I know I owe everything to the internet. When I launched my website in 2005, I began to work harder. Today, I live for my website, the series I am directing for [/url=http://www.leche69.com/]Leche69.com[/url] and my webcam. How will I find enough time? But I love it. I have plans to study computer science.
Do you use social networks like Facebook to recruit actors and actresses?
Yes. Sometimes I need something specific for my shoots, and advertisements on Twitter — which can also be read on Facebook — are very effective. For the new series we son will start looking for people of both sexes between 18 and 30. They must like to have fun, which comes out on video, speak spontaneously, and they do not have to have sex. Candidates?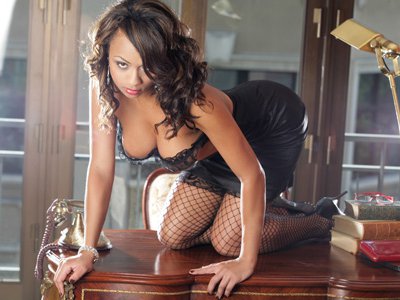 With whom will you never work again, regardless how much payment you are offered?
With the two actors who have mistreated me in my career: a black American and a white German. I do not know the name of either. No one could pay me enough!
Where will the porn industry go next?
Towards the new technologies, like it did with Web 2.0. Although users can download video for free on the internet…that's a bitch, but it's what's happening. Porn will find a way to make sex profitable again. Right now guys are searching for porn, and they find our webcams. They might not pay 10 euros for a DVD, but they will pay 30 euros to cum with you. And fortunately, webcams can't be hacked! Webcams are the future. Meanwhile, in what little is left of porn, we continue to make a living day to day.
Will you stay in Barcelona or do you have plans to globalize?
At the moment I'm still here, where I take good care of the Spanish. But you never know. I live in the here and now. I don't make a lot of plans for the future. Why should I? With all the good surprises life has given me, I want for nothing.
For more about Montenegro, visit her on the web at Twitter, her blog or on webcam.
Comments are closed.