Erika Lust, the Pornographer Who Came in From the Cold
[COLOR=red]YNOT Europe exclusive[/COLOR]
De Alejandra García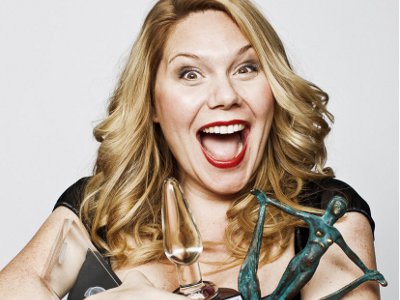 YNOT EUROPE – Meeting Erika Lust is meeting an energetic and natural young woman with an infectious smile and ideas so clear that their mere presence is able to brighten a gray day. My first impression did not disappoint: We had a good conversation, fun. If we had not been careful, it would have gone on so long that it would never fit on YNOTeurope.com.
Little could I imagine that this young student of political science in Lund, a university town in southern Sweden, is also known as "one of the 50 most influential young entrepreneurs in Spain" and considered "the woman who best represents a new type of erotic cinema."
At the time of this interview in her office in Barcelona, Lust already had seven foreign films on her resume and another about to be released in July, plus three books published and translated into several languages. She also has undertaken several multimedia projects — including apps for iPhone and Android — and designed the attractive vinyl decals that decorate her work space. In her spare time, she attends to a husband, Pablo Dobner, with whom she runs their company, Lust Films & Publications of Barcelona. The couple educates their two children themselves.
Hearing her story, it seems Lust's spectacular rise to stardom came easily for her … but not everything is as it seems.
YNOT Europe: How did a girl like you come to be in a business like this? A Swede representing the "P" in both pioneer and pornography … or is it "P" as in peligro [danger] or politics?
I studied at the university, and each summer I studied a new language. First came English, then a year in France and in the end, the language I liked best was Castilian. In 1997, I started coming to Spain every summer. In 2000, I spent a year in Madrid, and in 2001 I decided I wanted to stay in Spain.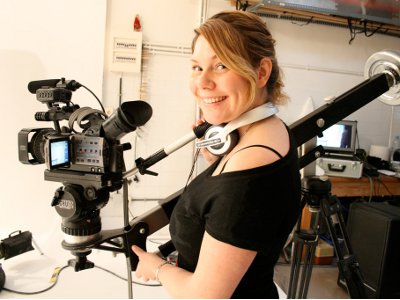 What happened is that the job situation was difficult and my training was too theoretical. I collaborated, among other things, on the "Forum 2004" and was looking for something else to do … and that's when I found the audiovisual world. At that time, much filming was being done in Barcelona — advertising, cinema — and I was hired as a "runner," then as a production assistant, location manager and such. Thus, I learned how a movie was produced. That's why I'm here now, because I learned from the inside, little by little.
I had always been attracted to film and theater. My mother is a classical dancer, and when I was young, I went to all the works, free. The more movies I saw, the more I wanted to learn. I followed a course in cinema, how to direct, edit, etc., and there came an opportunity to make a short film. I did not know how to begin, what themes to play, but in university there is always much talk of feminism, of masculine and feminine, [so that's the direction I took].
Speaking of youth…. How did you first encounter the world of pornography?
I remember that at age 13 a friend of mine had a videotape. We had five or seven girls [watch together] and it was fun, but I have no emotional memory of that occasion. The second experience occurred when I was about 18 or 19, with my then-boyfriend. I said "Let's watch this and do what they do." But what I saw, I didn't like. To me, [the onscreen action] seemed crappy, ridiculous, ugly and did not motivate me visually or intellectually.
It was at about the same time that I found feminism, and every night my friends and I spent talking about everything: about the world, about sex — which naturally interested us very much! And then I wondered: Why could I not find anything to watch that I liked? Why were the porn movies targeted only to men? The women [in the films] were very beautiful, yes, but they existed only as objects to please men.
And that's when your current philosophy was born?
Yes, that is what formed the foundation of what I do now. As a woman, I want to see female pleasure, and I want to see women somehow take the initiative, too. Many times in porn films, I see there is no connection [between the actors]. Why are these two people making love? In porn films, most women are portrayed as sluts or whores while the man is always a sexual superstar. I do not like the exaggeration and the lack of intimacy, of connection.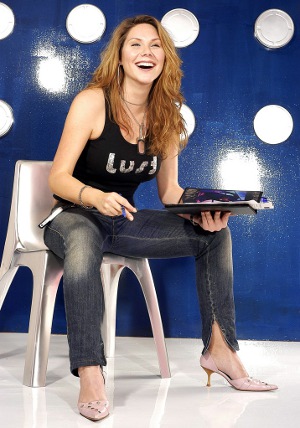 Tell us about your first film, The Good Girl.
It was made in 2004 and had great success in its day. I considered it an experiment to see if it was possible to make a movie like that. I didn't know whether it was possible to make porn for women. At the time, most said porn had to be chauvinistic, dirty, brutish. Mine was a "nice" movie, although explicit, with other values, very "sex-positive."
At the same time, I was still trying to find myself, trying to find work. I decided to look for any adult producer that would like to make a real movie, but no such luck. I visited every major studio. Berth Milton at Private loved [The Good Girl] and took me to Cannes and introduced me to the press, but ultimately nothing worked with Private, either. All producers told me no. "Women never pay for sex, only charge," said one industry executive, whose name I will not reveal.
So, as I could not sell my work, [my husband and I] decided to publish it free online. The website began to get a lot of traffic from all over the world. And so began [Lust Films], because we realized we had created something important, that there were many people who were interested. I started my blog and began writing and publishing books for adult audiences. Now, although we also have a male audience, between 30 and 40 percent of our audience is women. Lust Films is a production of new generation, which provides online streaming movies, and other products that can be purchased on the web. With the web, we managed to create a good impression and circumvent the distributors who did not believe in us, but we also sell, of course, in conventional stores. We built a brand of indie films.
What are you like in real life?
Personally, I am very much like "Erika Lust." Erika Lust is a girl who has been fortunate to be in the right place at the right time. In the past 15 years, she has changed the perception women have about erotic products. Before, there were sex shops, and now there are boutiques that sell sex toys. Female sexuality is much more widely accepted now. Before, the role of women was often that of a reproducing machine, while now women feel they can pursue their own pleasure. Women have been able to overcome these misperceptions, and now even magazines like Cosmopolitan are much more focused on how women can take their own pleasure, not simply give more pleasure to their men.
What have been your challenges as an entrepreneur?
It's still difficult for me to introduce films to erotic boutiques, because they say "We don't carry magazines or movies." But little by little, when they see [Lust Films] are different, we are succeeding. Now many sexologists use our films, because they help many women to become aroused and to realize their fantasies are not different or strange. Women realize many others share their fantasies.
So what are you considering for your next project?
We are preparing a new film of our own, to be shot in May. It is a project based a little on the idea that women very much enjoy erotic stories; that we seek more than just sex. Male porn is so rough. We want to have more emotion, which is the tradition in erotic stories.
Can you give more details?
The film will be shot in Barcelona, and I would like to work with women older than 28 years, because they have more experience [with their own sexuality]. Women like that are difficult to find, because that is the age at which they begin to leave porn acting. As for men, I would prefer them not to be so muscular.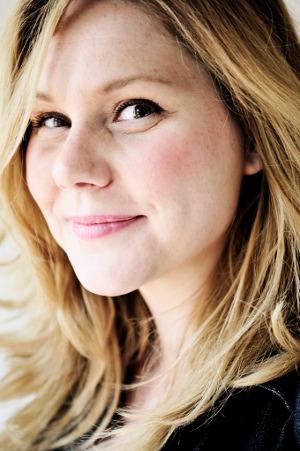 What budget have you allocated for this new production?
Some 80,000 euros. And, of course, we are looking for distributors in the U.S.
Speaking of budget…. If money were not an obstacle, what actors and actresses would you put in front of the camera?
Hm…. Aria, Claudia Claire, Lucas Foz, Sophie Evans, Terri Summers….
Have you been criticized for your views as a pornographer?
Some. Women have asked me things like, "Who are you to say what all women like?" I assure you no one has democratically elected me to represent all women, or even some of them. I just write what I feel, what pleases me. And, of course, there is chauvinistic criticism, from people like Torbe and others. I have been verbally assaulted, possibly because they like to give that image to their fans.
Where do you think the erotic industry is headed now?
Above all, I think the industry is diversifying, and I also believe that women have not come this far to leave this environment. I think there will be more women producers, more women entrepreneurs. The industry increasingly is looking like that. There are now many actors and actresses who take control of their own destinies. I am glad that this is the reality!
Photos by Catarina Barjau.
Comments are closed.