Eva Karera: Master of Her Own Destiny
[COLOR=red]Exclusive to YNOT Europe.[/COLOR]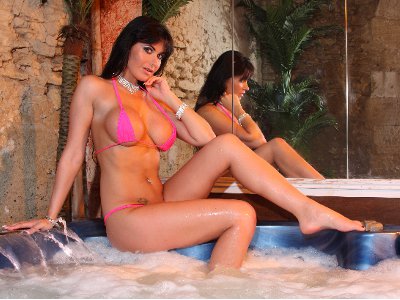 YNOT EUROPE – Belgian porn star Eva Karera is known throughout Europe, but she also has worked with some of the biggest adult studios in the U.S. Four years after she entered the industry, she has no desire to leave.
In 2007, Karera literally broke down the doors of the XXX business in France, propelling herself into the top 10 among Europe's most sought stars with the speed of a meteor. As a performer, she does it all, with a predilection for anal and double-penetration action.
Her next film, Forbitten Lust, directed and produced by Miko Lee Productions, is eagerly awaited. Karera appears alongside Miko Lee, Raquel Devine, Ash Hollywood, Brooke Haven, Lexington Steele, Jack Lawrence, Misti Dawn, Faith Leon and Michael Vegas in an attractive scenario that deftly blends horror, sex and vampires. Karera plays the role of a vampire thirsty for both blood and sex. Release is planned for May.
YNOT Europe wanted to know about this delectable star who is unleashing European passions across the Atlantic.
YNOT Europe: You began filming in France and Europe. With whom?
Eva Karera: When I decided to launch an acting career in adult, I contacted various studios. My first scene was filmed for Spound Productions' La Couleur du Sexe (The Color of Sex), and I appeared on the box cover.
After that I worked a lot with Fabien Lafait for JTC, participated in various promotional campaigns for Marc Dorcel and very quickly found myself in Budapest. That's when I made my first double-penetration scene. I also spent a few days in London, where I worked for Bluebird Films.
How many movies have you shot since your introduction?
More than 80 scenes or movies. Some were filmed in Europe — France, Budapest, Italy, London — but the vast majority were in the U.S.
What motivated you to go to the U.S.: the number of scenes you were offered, or the quality of the finished product?
As a Belgian actress, working only in France did not tempt me. I had wanted from the beginning to do things thoroughly, to manage my career as a real job. To me that meant working in the U.S.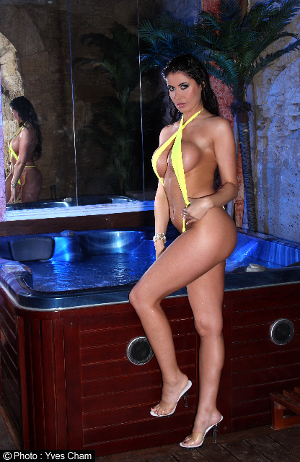 You work with an agent in the U.S. and in Eastern Europe, too. Do you regret that there are no agents in France?
Yes I work with an agent in the USA. Budapest was interesting when I started, but it is not in my future projects. As for France … it's a wild card.
For which U.S. studios have you worked?
In no particular order, Brazzers, BangBros, Bluebird, Evil Angel, 3rd Degree, Zero Tolerance, Naughty America, Reality Kings, Penthouse and others. The latest is Miko Lee Productions.
What are the differences between European and American film shoots?
The professionalism of U.S. directors is wonderful, and [on-screen] desire always is enhanced by beautiful scenery, great make-up…. I like the ambience very much. And then, to be in sunny California is not bad either.
What kind of roles do you accept: fetish, boy-girl, girl-girl, groups…?
The list of scenes for which I am available is quite long, but I have a preference for anal and double-penetration scenes. I love that my fans apparently do, too!
On the other hand, you have refused some shootings. Why?
I did, but that happened at the beginning of my career. If you want to climb steps, you should always see ahead. When you begin to be known, you must be careful not to work with producers who would tend to "smear" your image. And then, not everyone likes all kinds of porn or will agree to participate in all acts.
I came into this profession by choice, and I remain the master of my decisions. So if I do not like the style of a director or the script, I refuse filming. Whatever happens, I force myself never to make a scene I do not feel. It's all a question of feeling!
Tell us about your sexuality on film.
My sexuality on film may be different depending on the type of scene and the actor with whom I work, but also because we are always trying to produce the perfect scene to feature on the box cover. Everything depends on the limits set by the situation. If everything is too easy, I get bored, and if I'm bored I become mechanical. I must feel a connection with the guy in order to make a beautiful scene.
Are the actors different from one continent to another?
The size of an actor's penis is pretty standard, but American actors spend a lot of time in the gym so they have amazing bodies. And because there are so many, I get to work regularly with different players. I love it.
You have managed to preserve your "chic hardcore" image even in the U.S., where they shoot mostly gonzo. How did you do it?
I am merely trying to be myself. I'm the same person you see on screen in everyday life. I love beautiful lingerie, class, good manners. Sex can be chic and glamorous even when it is hardcore.
As a professional, do you feel you get more recognition and respect in Europe or the U.S.?
I am fortunate to have fans on both sides of the Atlantic, and I work mostly with the big American studios … but I feel at home everywhere, especially in the U.S.
Do you plan to stay where you are for a while, or move on?
I usually don't stay anywhere long, but now I'm in California, so I think I'll stay a bit. However, as long as there are intriguing projects and ideas, I will continue to travel all over.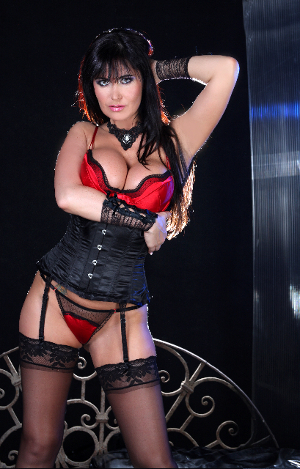 When you are not working, what are your favorite hobbies?
I'm not someone who can sit still. I love playing sports, which is related to the fact that I am also a bonne vivante. I exercise a lot to stay in shape while continuing to party and eat what I wish in restaurants and at barbecues.
I also read a lot. It passes the time when I am waiting and on airplanes. I own a Kindle, so I can download all the books I want in seconds.
Like all the other girls, I have quite a weakness for shopping, but mostly when I'm in the U.S. I go crazy in the beautiful shops of 5th Avenue. A fault confessed is half redressed, no? And I'm crazy about shoes, especially Jimmy Choos.
How do you stay in touch with your fans — through your website, social networks, something else?
I frequently update my blog, Eva-Karera.com. I love the comments I receive from my fans, and although I lack the time to answer, I invite them to continue to post.
I make frequent appearances on webcam, so fans can find me live and chat or just sit back and enjoy the daring, erotic shows I perform for them.
I have two Facebook accounts, because I could not fit everything into one: Eva Karera and Eva Karera II.
I just opened a Twitter account, EvaKareraXstar, where I share my news throughout my day.
Would you like to add anything else?
I embrace all my fans, and I wish them lots of fun watching my films.
Photo © Yves Cham
Comments are closed.