Exclusive Interview with José María Ponce: 'the Father of Spanish Porn'
By Alejandra García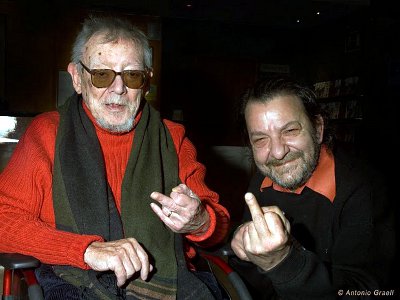 YNOT EUROPE – The history of José María Ponce is long and consistent. As a journalist, writer, director or discoverer of artistic talent, the Madrid native has always made clear his liberal ideas.
In an exclusive interview with YNOT Europe, "the Father of Spanish Porn" revealed the man behind the fame.
YNOT Europe: How and when did you start your career in porn?
José María Ponce: In the mid-1990s. I was director of Hustler Spain and I was angry that there were no adult movies produced in Spain. I decided it was time to end this situation.
From writer to film director … what made you take that leap?
I always wanted to make movies. I studied photography because when I went to register at the Official Film School, [directorr] Franco had closed it. But I got to study in private schools. Porn gave me the opportunity to make movies.
With which of your movies are you most satisfied?
All of my films are my children. I love one thing about some of them, and others bring me good memories. But perhaps my most complete film is Faust, the power of sex (Private).
And what is the on-the-set story you'll never be able to forget?
In Perras Callejeras (Street Dogs) the girls weren't speaking to each other. And they were always together, in every scene. A couple of time we had to separate them because they pulled each other's hair.
In your first productions, how much were actors paid per scene?
At first, we didn't pay actors.
What about actresses?
More than 100,000 pesetas (600 euros).
You also created a kind of artistic agency, "Project X," which discovered such big names as Nacho Vidal, Toni Ribas, Sophie Evans, Max Cortes and others. What happened to such a promising project?
It fulfilled its function of finding people.
Your extensive resume also indicates you created FICEB, the Feria Internacional de Cine Erótico de Barcelona (International Erotic Cinema Fair of Barcelona). Was that difficult?
As director for Hustler, I went to the AVN Awards and the Hot d'Or, and I wanted to do something like that in Spain. It was fun. We had no money and left everything to chance. We were the first to be surprised with its success.
Are there many people in the adult industry who have missed the boat when it comes to the internet?
Most have, especially the veterans. They realized the importance too late.
Today, what ties you to the porn industry?
Virtually nothing. I write for a specialized website and little else.
What do you miss?
Porn cinema has died. Today there are porn movies, but it is not cinema.
What advice would you give to those who want to start in the XXX business?
To study Chinese and forget porn.
Do you think the Spanish porn industry can play an important role internationally?
No. Spain has no porn industry. Four family businesses, mishandled, can not have international influence.
Currently, whom do you admire?
I like alt-porn, Suicide Girls, that kind of thing. There are interesting things going on among young people.
If you were offered the budget, what movie would you make?
My Gothic trilogy — Gothix, Faust and Carmilla — remains unfinished. I would film Carmilla, a vampire project.
Comments are closed.