Francois Sagat, Multifaceted Gay Icon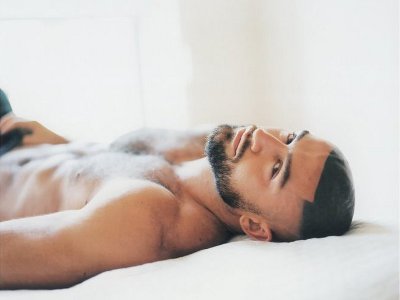 YNOT EUROPE – Frenchman François Sagat is one of the world's most popular gay porn stars, particularly in the U.S. But his was not always the muscular physique fans see today. Sagat built an amazing body from a teenager's physical frailty.
He embraced his homosexuality when he adopted the pseudonym "Azzedine" and began his adult career in French pro-am porn with the studio Citébeur. Quickly, he became popular and moved to the U.S. to sign an exclusive contract with Raging Stallion, and then with TitanMen. Both studios are major players in the gay porn industry.
Sagat is an enigma. He is a fan of gory movies, which led him to accept a role in the mainstream horror flick Saw 6, the most recent episode in the series. On that set, he was noticed by French filmmaker Christophe Honore and the American Bruce LaBruce. Honore cast Sagat in the lead role in his latest film, L'homme au Bain, alongside Chiara Mastroianni. The film portrays a man distraught by a breakup with his boyfriend. Plunged into insurmountable disarray, he drowns his sorrows in sex.
In LaBruce's L.A. Zombie, Sagat plays an extraterrestrial vampire who believes he can reanimate the dead by having sex with them. The explicit film was censored in Australia, which caused an international outcry.
Splitting his time between California and France, Sagat is a multifaceted artist attracted to unexpected encounters. In addition to other projects, he collaborated with avant-garde fashion designer Bernhard Willhelm, and has no plans to stop surprising us.
Now considered an icon of the gay community, Sagat agreed to reveal the man behind the porn legend exclusively for YNOTEurope.
YNOTEurope: Your adventure in porn started in France before moving to the U.S. In 2007, you received the GAYVN Award for Best Actor. How was this dazzling journey?
Francois Sagat: It all happened so fast, beyond my expectations. In my mind, before the "explosion" [of interest in me as a porn star], I was interested in exploring porn in a purely sexual and experimental way. I was not interested in the "star system" of the studios. I was just looking to test my sexual power and my ability to perform. The goal was sexual exhibitionism; fantasy more than anything else.
Although the idea of becoming very popular in this business crossed my mind, I did not believe it at first. After my first scene, I became "famous" in the industry by accident. It was a big surprise, especially since the porn pantheon — especially in the USA — was already quite full. I knew the names, all the producers, magazines, actors…. So when an American producer contacted me, imagine my surprise! At age 25, it was too much for me.
I got back on course and lived through the "surge," and in hindsight I can appreciate the success. When things happen quickly and within a very short time, we can only live in the moment and do not realize the magnitude of the phenomenon. I think my ultimate goal is to live in the moment, and that is why I avoid giving myself time to rest on past achievements. I like to move on.
Tell us about your physical transformation. You wanted to turn the page on the puny teenager with long hair that you used to be?
One goes through several physical changes in adolescence of necessity. I think many teenagers — well, boys — look more or less a lesbian. That was my case: a young dyke! I don't mean that as a pejorative. My hair was a little long, but otherwise I was "square": I dressed in conservative clothes and was fairly fit, clean. I was pretty dull too, and my voice was very high-pitched and feminine. I always wanted to get lost; to fade into the walls! I did with about half the people, but I drew attacks from the other half of my classmates. I couldn't win.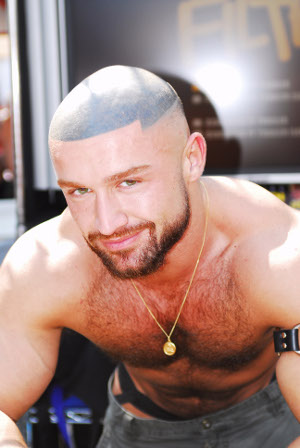 So, yes, after 18 years I just wanted to turn the page on a "lukewarm" physical presence, obviously. "Lack of personality" is how people described me. It was certainly true!
I went through all the hair colors, cuts, piercings, etc., but my attitude remained discreet. When I realized around the age of 20 or 21 I gradually was losing my hair, that became a big physical challenge, because I always used to be "hairy." I began to reshape my body with weight training in late 2002/early 2003, and then, in resignation, I adopted this head tattoo in 2003.
Did you undergo this transformation to become porn actor, or is it vice-versa?
No, I did not work on my body for the purpose of becoming an actor or porn. Mainly, I wanted to feel better about my body. Porn happened next. After that, my acting career really took off strongly in Spring 2005, so I moved away from "marketing" based on physical image. I already had the physique and logically it was part of my image.
The tattoo on your skull: Is it your brand?
The difference is in the details, yes! Trademarks are a vulgar way for some to get noticed and to address the lack of attention. For me, the tattoo helps to define the unique being that I am, because I had no uniqueness before. I believe everyone is unique in some way.
The tattoo is in line with the character I am now, and it happened without me really knowing I was going to become this character. I do not think I calculated the equation "success equals tattoo." It could have been a flop! It could also have made me not look like me to me. I'm lucky. I feel 100-percent comfortable with this image.
I consider the tattoo a bit like Cindy Crawford's mole or Barbara Streisand's nose, except that I got to choose my trademark feature.
In no time, you became a gay icon — a fantasy for many. How do you explain that?
How can I explain? I am the person least qualified to talk about this. In terms of scale of values, because "icon" is a positive attribute, it would be vulgar for me to call myself that. Even if it is verified and confirmed by those who pretend to know, I think it's still pretty premature to say that about me after a little more than five years of existence in the public eye.
I am flattered and embarrassed sometimes, but if people think me an "icon," it's because I've never fallen when risking my image. I've never confined myself strictly to my work as a porn actor. Although my way of expressing things through sexuality has destroyed part of the original image, it also has reconstructed a new image that is more complex in the end.
How do you live inside this phenomenon?
Those who look at me from the outside see a fantasy. My real life is not in the contemplative, but the incessant questioning and the desire to provide useful work or energy. I need to be useful! So, this phenomenon "breaks my legs" more than anything else. It's good for the ego, but it's also very time-limited.
My life evolves, and I must take charge. The fantasy is but a small part. Whether the dream is far away or very close, I need to make every day useful by doing, creating, working.
Have you stopped shooting gay porn, or will you continue to do scenes for your website, for example?
I am taking a break from gay porn — no film shoots since September 2009. Sometimes I miss it. The temptation is there from time to time to return. But then I think about all the work required for publicity and promotion and quickly change my mind. [laughs] I do not look forward to all of that again. That may change. I did not complete leave porn; I just took a break.
I produced some personal videos for my website, but I stopped that, too. It was tiring to put myself on stage, and eventually the work became too easy, obvious and self-centered. I do not feel that kind of creativity right now. I have spent much time and energy in recent months on other visual projects.
This year you were chosen to do some mainstream roles?
Yes, exactly, I was "chosen." They came to see me, absolutely.
What was the trigger?
The trigger is simply what I have found myself creating videos that have been posted online over the past three years, very personal videos. The fact that I was a porn actor is essential to understanding these videos, for them to make sense. But those who cast me — Bruce LaBruce and Christophe Honore — have not seen a single pornographic movie in my filmography.
Your role in L'homme au Bain [The Man in the Bath] — tell us how you perceive this sensitive character hiding behind a shell of muscles.
The character resembles me a lot in his silences, his wandering, and his sensitivity contrasts oddly with his hard, solid physique. Yes, it's quite me! Perhaps he is also a power comic? But surely in spite of himself.
I see the character also left out quite a lot of aspects, including the gestures, which I like less. I am a very structured and full of self-control; I show my emotions very little.
There is little dialogue in this film, so little opportunity to learn more about the thoughts of this character who still remains somewhat vague, and that's just fine.
The director, Christophe Honore, proposed you personify the "self-construction of the image of manhood." Your point of view on that?
Uh, probably because everyone thought I was taking everything very seriously, and I proved them wrong. It was surprising that Chris chose me, except for the fact that I created a physicality that I use in a different way than you would expect. That may represent my own fantasy or sexual and emotional delusion!
I think a lot of "gay" people went to see this movie thinking that Christophe, through me, would give them what they wanted to see: the porn star Sagat. And that is not what happened at all, and they were mostly disappointed. I do not care!
In short, I look like a man who has reached the climax of his manhood, with all possible archetypes: hair, muscle-bound,dark eyes, facial features raw with power, mute, etc. But I'm not that man, or maybe not completely. I had to demonstrate repeatedly by using the ability to reveal the feminine aspects of my personality without being so stereotypical.
It may be that this huge contradiction or nuance actually affirms this notion of contemporary manhood Christophe tells us about [in his film].
You also shot in LA Zombie for Bruce LaBruce, in which you portray a vampire scavenger thirsting for gay sex. Where did your passion for gore come from?
My passion for gore and horror movies arose when, as a boy, I discovered video cassettes in 1986, and then cable. The images fascinated me. I might have stayed a bit too long in front of the screen; browsed to where I should not have. [laughs] I also discovered straight porn movies very early.
These two film roles, in LA Zombie and L'homme au Bain, are diametrically opposed: a monster on one side and on the other a vulnerable boy. Does this paradox naturally exist in your personality, or did you discover it in the interpretation of the characters?
I think I have a personality rather simple, and usually I'm as contradictory as every other human being on this planet. We are all contradictory, double, shifting. I do not think anything is wrong with that.
I think I am a collection of things fairly well developed, like you, no? A rather average intelligence. It is my public image or what you see of me that makes me more special in terms of personality "type." Creating a type is just a matter of experience or references. There, I admit we are different!
I find it quite logical and consistent to be different, rather than the same each day. Having performed these two completely different roles has only confirmed the ability and willingness on my part to become an image. In the end, I found a great similarity in these two roles: solitude, silence and wandering. Besides, to return to the paradox of which you spoke, I found the character of Emmanuel [in L'homme au Bain]more aggressive than the character in LA Zombie. He is peaceful by comparison!
You got involved in fashion and collaborated with fashion designer Bernhard Willhelm. How did this encounter go, and what are your plans?
He also came to me, and this may be why the project worked. I appreciated the desire and the proposal; it helped me work better. I do not want to work at any price with someone I did not like.
The meeting was incongruous, funny, offbeat, and the concept was exactly the kind of things I wanted to do at the time: have fun. It is also a part of fashion which remains very underground and commercial. I'm not obsessed with fashion as I was before.
In France, the status of the porn star is rather disadvantageous. Especially when it comes to initiating a conversion to mainstream, taboos remain, unlike in the U.S., where "porn star" is a real profession. Do you see your future in France, or instead in the United States?
I do not know what I see. I feel that it is others who want to consign me to a "place" and do not understand my choices or my current situation just because I will not stack other traditional roles after two projects in 2010.
I think we should progress at our own pace and not aspire to do everything at any cost. I walk very slowly today. I see myself in Europe and the USA. Why not? I include France in Europe. France is a country increasingly conservative, a country that is dear to me, mine, but a country that is disappointing. Nevertheless, it is a country to which I have essential ties.
I've never performed in porn in my own country. It is not a part of the culture. I am in talks, also, about some projects that are not confirmed. These things are happening, always in secret, so people think I am not doing anything. Then they'll complain. It's very French. You are nothing if they do not see you for a while.
You're a star in the American gay community. Have you ever wanted to make straight movies? Many women find you sexy.
If I thought about it, but I do not want to "turn" or anything. I'm gay! There are gorgeous girls whom I like very much, but hey…. If we could make a good movie, that would be very satisfactory. It is true that in any other project besides porn, I really feel that a female presence is essential.
And if tomorrow someone offered you a mainstream movie role as a man who loves women, would you accept?
Good aim! That's what interests me the most to do. I think if I were offered another homosexual role, the idea bore me terribly. I always find it completely uninteresting to do the same thing again. Unless it is in the field of comedy, which is even more dicey!
Yes indeed, nothing more gratifying for me than to play a man who loves women. I dream.
We saw you in France on the board of Le Grand Journal de Canal + with Katsuni, another French porn star who also works in the U.S. Had you ever met before?
Yes, it really confirmed the world is a small place. I've known of her for quite a few years.
The encounter was short and pleasant, not really enough time to begin discussions super deep in this kind of atmosphere. It was the first time I met her. She is a girl apparently who has grown in her work, like most girls who are working for a little while.
I also met her sister performers and spent more time with them in Australia. Jesse Jane and Riley Steele are adorable, humble, softness and absolutely so funny!
An atypical man, Sagat does not know where he will go from here, but the important thing, he said, is for him to move forward. Sagat likes to surprise, so expect him to be where we least expect him in his next great adventure.
Comments are closed.