French Chicken Farmers Cry 'Fowl' over Porn Shoot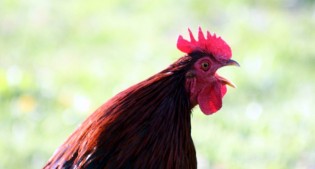 LOUÉ, France – In a town devoted to free-range chicken farming, pretending to be a horny female chicken rancher is just asking for trouble. At least, that's the position taken by residents of a community in northwestern France.
A recent outdoor porn shoot featured a cast including "33-year-old Sophie, a chicken breeder, who wanted to make a video for her husband as a Valentine's Day gift," according to the video's opening commentary.
What seemed a harmless pretense was enough to get the performer, her scene partner and their cameraman chased off mid-shoot by angry locals. The vigilantes took exception to outdoor sex, perhaps because they thought it would disturb the town's famous chickens.
But the story didn't end there. The chick flick turned up on a French porn-video-sharing site. In short order, it received 2.2 million views.
One of the viewers was a chicken farmer from the free-range village, ostensibly researching in a manner appropriate for a dedicated chicken image vigilante. He sent the video link to the person in charge of Loué's poultry industry, and the feathers started to fly.
"This pseudo-chicken breeder is nothing of the sort," Yves de La Fouchardière, director of the Fermiers de Loué cooperative, fumed to the French newspaper Les Nouvelles. "You'd have to be naïve to believe that. She's an actress."
After viewing the video, local police apparently came to the same conclusion.
"We found her on other websites," they said, showing a commendable commitment to ferreting out phony chicken farmers that is no doubt of great comfort to the residents of Loué.
So far, no arrests have occurred.
"For our part, we ensured that no one who took part in the filming of this video was under duress and that no one was injured," a police spokesman told the Ouest France newspaper.
Since no one was forced to impersonate a chicken farmer nor was anyone injured — and no local chickens filed a complaint — the case was dropped.
At least, it was dropped by the police. Loué Mayor Dominique Croyeau is said to be considering legal action.
"Shooting pornographic scenes in broad daylight while crossing the village is bad for its image and that of breeders," he said. "It shouldn't be allowed."
Shooting porn outdoors is illegal in France, so the mayor may have a case, as long as he can get witnesses to crow in court on his behalf.
Comments are closed.