Gay Studio's Birthday Bash Benefits Health Clinic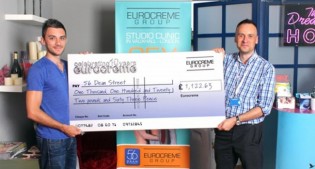 LONDON – A gay adult studio group mixed pleasure and public service during its recent 10th anniversary celebration, ultimately presenting a donation of more than $1,000 to a London public health clinic.
The Eurocreme Group worked with the team at 56 Dean Street, part of the UK's National Health Service, to establish a sexual wellness clinic at Eurocreme headquarters in Vauxhall. Opened in mid-March, the clinic offers discrete testing and treatment referrals not only to adult performers, but also to anyone else in the community who seeks its help. The operation represents the first collaboration between an active porn studio and the UK's national healthcare trust.
While Eurocreme celebrated its 10th anniversary with a lavish party featuring sexy boys, world-famous acts and a bevy of other goodies, the company also raised funds for the charity behind 56 Dean Street. After the party, Eurocreme Media and Events Manager Lee Redpath presented a cheque for $1,122.63 56 to the clinic's manager.
"56 Dean Street would like to say a big thank you to the Eurocreme studios for this generous cheque that we will put to good use," Clinic Manager Leigh Chislett said. "I have been so impressed and grateful to Lee and the studio not only for this kind donation, but [also] for the support and dedication they have given in working with us to set up the Eurocreme Group HIV, sexual health and hepatitis screening service that runs at the studio every Thursday evening."
Redpath said the studio is grateful to 56 Dean Street, as well.
"Setting up the clinic has taken a lot of hard work from both sides, but I am very pleased with the results and the uptake of all who attend," he said. "Handing over this cheque is such a rewarding thing to be able to do. The work of Eurocreme's clinic is set to expand, and with the support of 56 Dean Street it's full steam ahead."
Image: Eurocreme Media and Events Manager Lee Redpath, left, presents a cheque to 56 Dean Street Clinic Manager Leigh Chislett.
Comments are closed.