Hailey Morgan Invests in Pin-Digital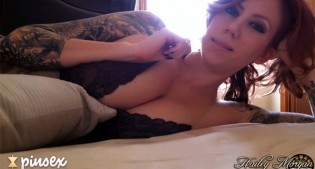 BARCELONA – Award-winning cam girl Hailey Morgan has become the second adult performer in less than a month to join Pin-Digital as an investor.
Pin-Digital is the corporate parent of adult entertainment social networks Pinsex and PinGay. Morgan joins Vanilla DeVille, who invested in the company in September.
Based in the U.S., Morgan is a veteran webcam performer with more than eight years' experience in the adult industry. A favorite amongst lovers of tattooed girls, she has earned a Twitter following of more than 75,000 people, and recently received Inked Award for Cam Girl of the Year 2012. With her husband, she produces amateur porn for her membership website, HaileyMorganXXX.com.
"Pinsex is the most unique cross-promotional adult platform in the industry," Morgan said. "I am working closely with the company not only to reach out to my fan base, but also to increase that fan base for the mutual benefit of PinSex and myself."
Launched in September 2012, Pinsex provides adult companies and performers with a new way to promote everything related to sex to engaged, adult consumers. The website claims more than 150,000 daily visitors and more than 900,000 daily ad impressions.
"We are extremely pleased to welcome Hailey Morgan on board," Pin-Digital founder and Chief Executive Officer Christian Thorn said. "She is one of the most popular alt cam performers with a strong following of fans.
"Our ongoing celebrity media partnerships with established and rising stars allow them direct interaction with their growing fan bases as well as giving Pinsex users the unique experience of discovering, collecting and sharing content exclusively uploaded by those stars," he continued. "No other platform can connect this avid and growing community like we can."
About the Author

Marty O'Brien
Raised in the Appalachian Mountains of Kentucky, Marty O'Brien was the first of the O'Brien clan to obtain a college degree. A former sports journalist, O'Brien got a peek at the inner workings of the adult entertainment industry while on an assignment to cover the Los Angeles Lakers. He joined the YNOT editorial team in late 2010 and now specializes in technology , business news and ogling starlets.
Related Posts
BUDAPEST, Hungary – The second annual DDFAwards competition has begun, pitting more than 65 starlets against one another in a contest for one of seven […]

GENEVA – The XSummer Total Quality Contest, hosted by live webcam platform Xmodels, will award up to 1,000 euros each to five models who exhibit […]

By Ben Suroeste LONDON – With their American brethren still reeling from similar scandals across the pond, porn stars in the UK are trying to […]

STOCKHOLM – Swedish adult performer Puma Swede has launched an eponymous line of adult toys in partnership with Swedish manufacturer Freyja Toys. At launch, the […]
Comments are closed.