Have You Invested in Cryptocurrencies and Lost? Let Angela White Cheer You Up!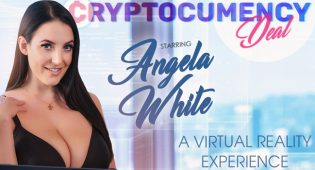 Only a few months ago the whole world heard about the power of cryptocurrencies such as Bitcoin, which convinced a lot of people – including those who are usually not interested in stocks and investments – to buy a smaller or larger amount of one of these incredibly popular digital currencies in the pursuit of fortune and easy profit. Unfortunately, as it happens in life, fate does not always turn out to be so kind and many folks who invested their funds at the wrong time, instead of wallowing in a fortune today, have lost pretty much everything, often getting rid of the savings of their entire lives.
Angela White, an incredibly gifted pornstar with a pair of huge titties that made her famous inside of the adult movies industry, together with one of the premium VR porn movies makers – Virtual Reality Bangers – is here for all these poor souls in the latest VR porn fantasy in 6K ultra high definition produced by the studio. The CryptoCUMency Deal with her is all about cheering up everyone who has lost a small fortune on cryptocurrencies investments, and producers truly hope that at least some of the people affected by the issue will find this latest VR porn experience comforting and pleasing.
"Honestly speaking, I have lost some of my cash on a Bitcoin investment, too," says Xander Jones, the Producer of Virtual Reality Bangers. "I remember the feeling when I found out that my cryptocurrency is worth way less than it was in the day of purchase, and guided with similar memories and feelings, VR Bangers have decided to create this latest VR porn movie of ours. We believed that Angela White was a perfect comforter in every meaning of the word, so choosing her to star inside of this VR porn video was, according to us, a fine and justified decision – now we only need to wait for our fans' opinion to see if we were right!"
The CryptoCUMency Deal VR porn video will allow every member of the VR Bangers' community wearing his VR headset to become Angela's boyfriend who is only minutes after finding out about his devastating loss. Fortunately for him, his loving girlfriend was close at hand and noticed that he is fairly run-down and that there is something wrong with him, so now she is offering some distraction and a very effective method of cheering him up – after all she is a professional VR pornstar, isn't she?
Starting from a sensual sloppy blowjob, through hardcore fucking in every POV position that you can think of, the girl is doing her best to cheer up her beloved soulmate – meaning every horny guy willing to fap to that VR porn fantasy equipped with some high-tech VR goggles on his head and an active membership on VR Bangers.
If you would like to become the guy as well, simply go to this link to watch this latest VR porn scene in full 6K ultra high definition and 3D 180 degrees on behalf of Virtual Reality Bangers' membership.
Comments are closed.