iStripper named Sophie Sparks its talent of the month for October 2018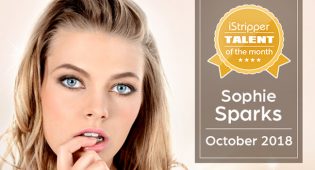 Sophie Sparks comes from the US. Splendid blond beauty with big blue eyes & silky hair, Sophie started her career as a cam girl. Facing an amazing success, she decided to start shooting for international productions ; she's still quite rare on the Internet and reserves her apparitions only to the productions she values the most…
Sophie is full of surprises! Not only she's an amazing performer, but she also speaks fluent chinese, plays ukulele and is fan of rock n roll music!
« Sophie is a delight, said Oliver, photographer @iStripper. The two days spent with her in our studios have been a treat and the result exceeds our expectations! Her shows are simply irresistible and she quicky reached our TOP 5 best seller!
Members' comments:
« Hot and sensual, with little naughty smiles, Sophie literally captivates me. With Sophie, the world becomes wonderful and I melt in front of so much beauty 🙂 »
st******
« Sophie has one of the prettiest faces you'll see on iStripper. Her blue eyes and enchanting smile are irresistable »
64b*********
« Sophie Sparks has for me the best smile and pussy of the universe and with this blue outfit she is perfect, 1000000/10 :)) »
Sp*******
Each month, iStripper selects their Talent of the Month based on her beauty of course, the quality of her performance as a stripper, the rate she got from our members, the number of times she's been purchased, how long she stays in our top 20, etc.
And in case of a tie, we ask the shooting crew to choose the girl who has left them with the most unforgettable memories!
iStripper is the only desktop application able to display real stripteases directly onto the computer taskbar, without background. The concept exists for 16 years and is supported by thousands affiliates who monetize their desktop trafic with innovative tools such as the popping models.
For more info visit our site. 
Comments are closed.