Julia Channel, Back on the Screen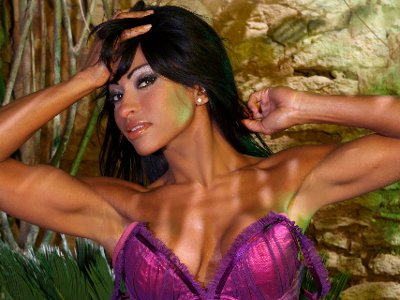 YNOT EUROPE – The former porn star Julia Channel returns to the international screen in a music video that has nothing to do with porn. "All I Want," from the album Colours, is out now. Channel is bursting with energy whether posed as a sexy rapper perched on skates or made to look like a crazy hippie from Ugly Betty. The lyrics are funny, fresh and supported by a melody that works beautifully with Channel's sultry voice.
Born of a father from Mali and an Italian mother, Channel appeared in more than 100 adult movies between 1992 and 1996. Adored by fans for her beauty, freshness and performance, Channel returns to a wider audience with the release of her first music video.
She said she is animated by continually unbridled creativity. After opening a personal website, Channel took a pen in hand in 2008 to write her autobiography, L'Enfer vu du Ciel (Hell Saw Heaven), published by Éditions Blanches. The book fully engages readers, as is Channel's habit. The autobiography is hot, without false modesty and without subterfuge. From her bitter childhood to the beginnings of her career in porn to her retirement from filming while facing the threat of contamination by HIV, the former porn star gives us a poignant and heartfelt look at her life.
She also has created a lingerie line.
Never short of imagination, Channel this year introduced mecacroquer.com. On this dating site, women choose the men! At the same time, she returned to her love of all time, music and singing.
Despite a busy schedule, Channel confides in YNOTEurope, exclusively:
YNOTEurope: How long have you been devoted to music?
Julia Channel: Music and me, it's a long story of love. In fact, since my birth I bathe in it. My father was crazy about musicals, and I was raised to enjoy Fred Astaire and Gene Kelly. At 10 years old, he introduced me to Stevie Wonder, Aretha Franklin, Miriam Makeba, Frank Sinatra. It was quite obvious that the musical ear would develop with exposure to artists like that.
Your "rebirth" as a singer started at a showcase in Paris in 2009. Since then, how many singles have you released? An album? Where did you record?
Few people know this, but my very first test in the studio began in 1993. I began seriously talking to producers in 1996, and since then I have never ceased to make headlines. I worked with artists such as Driver, Bambi Cruz, Organiz, Fred Fraikin, Guy Waku, Rene de Wael.
I did a lot of titles in 15 years, but nothing has ever really succeeded. Already at that time because it was much harder to make a record after the X. Because of the image you vehicles. Today, France is still very controversial, but it's a little easier. Nothing to do with the United States, for example, where porn stars are more considered, the situation is more complex in Europe, an issue of taboos!
"All I Want" is my first single produced by a French composer, but mixed and mastered in London at the legendary Abbey Road studio.
This new song is accompanied by a clip. Who shot it, and where?
Regarding my clip, I wrote the storyboard and I appealed to a filmmaker named Grand Poucet. The filming went really super-well. We had about forty extras and dancers, all fabulous. It was a great experience. We shot in big studios in Paris.
The remix of my song is coming soon, along with a whole new clip.
What are your sources of inspiration for the music and lyrics?
I listen to a lot of artists I love, like everyone else. One is forced to learn somewhere! I have very eclectic musical tastes, so I really sailed through all the musical universe. Of course for this first title, the lyrics are very autobiographical. It was a little to evoke my strength and show that bad things can happen to anyone.
And for the clip?
As I said, I wrote the storyboard. I had this idea in mind to revisit history and music in a fun way, obviously with a small nod to Diana Ross, whom I love.
In the video, you play on clichés. Do they describe you?
In fact, I'm part of the '60s, the era of The Supremes, passed through the seventies and Soul Train, then through the '80s with Run-DMC before dropping into the techno future.
With your humor, do you want to convey a message?
Ah, yes, of course! I'm someone who does not take herself seriously at all, so it's true that if there had not been a touch of humor, this clip would not have really shown me. The message is simple: We have only one life, so do not take too much too seriously and laugh as much as you can!
Now that you've built up momentum, what's next?
First, arrival of the remix of "All I Want" with a new music video, then I'm leaving for New York and Los Angeles to record a new track with American singer LeMarvin. My next album is due when the sunny days arrive next spring, and the song of the summer is already in the box!
Was 2010 a good year for you?
Hmm…. The year 2010 was a bit chaotic, but good overall. It brought great things, such as the launch of my dating site, mecacroquer.com, and of course I love my music video.
Julia, anything to add?
Well, I look forward to this new year. It means renewal and hope and even more creative surprises. I am more motivated than ever!
More than just a conversion piece, Julia Channel proves that she is a complete artist whose creativity is far from being exhausted. The future will only enhance her star.
Photo: Yves Cham
Comments are closed.