Katsuni Back in France for Erotica Dream in Lille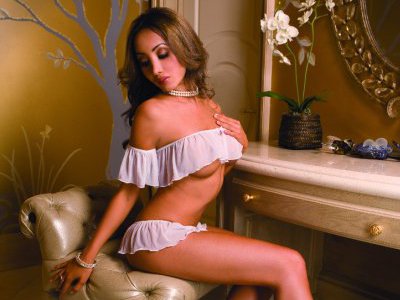 YNOT EUROPE– A few months ago, adult star Katsuni ended her contract with American studio Digital Playground. They parted on excellent terms so Katsuni could pursue a career she designed herself. Today more than ever, the brilliant Katsuni is thirsty for freedom and independence.
Shortly after her DP contract ended, the international star and winner of 32 awards began an international tour, to the delight of her many fans. The tour began in France, where she resides, then crossed Europe to Macau and finally landed in Australia, where she appeared in all major mainland cities. Her schedule also took her to the Caribbean island-state of Guadeloupe, where fans were ready for erotic shows and signings, and then to Reunion Island.
In December, Katsuni returns to France during Erotica Dream at the Grand Palais in Lille. She is the muse of the show and will attend the event Dec. 3-5. The star will be signing autographs in her own booth on Saturday from 4 p.m. until 6 p.m. and 9 p.m. to midnight. DVDs, posters, photos and souvenirs will be available free.
The salon also presents an opportunity for Katsuni to present her new lingerie line, Petit Coeur. In a delightfully decorated room, visitors will find the complete collection that is both chic and provocative and would make an original gift idea to celebrate a sensual Christmas.
Despite a busy schedule, Katsuni took time out during her international tour to speak exclusively to YNOT Europe.
YNOTeu: Katsuni, since you're separated from Digital Playground, do you see your future differently?
Katsuni: No, not at all. It does not change my plans. My career was not based on Digital Playground. Our contract was a true collaboration. We did not have a dependency relationship as there may be with the other contract girls.
My future will always depend on me and my choices — and I have confidence, because for me the rule remains the same: have fun in what I do, and do it seriously.
In recent months, you've been gone for a big tour of Australia to Guadeloupe. How did your fans welcome you on the islands?
It was an absolutely memorable trip! Guadeloupe, Reunion and Mayotte are French territories. I have not seen any real differences with the mainland. When we share an island, we are exposed to more intense reactions because we find ourselves in a microcosm where everyone knows each other. So, it's make or break, and in this case and it went really well.
In Australia, it was total delirium. I found myself at the end of the world and people paid to come away with a souvenir photo — it's unthinkable. I've never had so much fun. With the Americans, Australians have become my favorite audience. They are friendly and extremely generous. I cannot wait to return.
You received much mainstream press coverage during your tour of the islands. Congratulations! How do you explain that? Is this related to the mentality of the indigenous?
As I told you, everything becomes important when one comes upon an island. Upon my arrival in Mayotte and Reunion, I attended a press conference and it seems that journalists enjoyed the meeting.
It is also clear that I was not there only as an actress who makes XXX shows, but also as representative of my lingerie line, Petit Coeur. This allows me to speak to a wider audience and also to women. The media are always fond of news about XXX, but nonetheless they feel guilty if there's not something else for them to focus on.
The tour featured several appearances at trade fairs, shows, interviews…. Did you feel those venues met the expectations of your fans?
Yes, because the returns have been excellent and all clubs and schools — five total — sent unsolicited offers for me to come back.
The magazines covered daytime activities, and they have not written a single negative word. Fans were likely to come in the evenings.
For my part, I made mtself available. I always spend much time on autograph sessions after a show. This is an important moment where I can meet and talk a little with my fans, take a souvenir photo, give some advice. I saw only smiles. I think I fulfilled my mission!
You're the muse of the show Erotica Dream in Lille. Will we see you in shows on stage?
No, for once you will not see me in live performance. There will be very hot shows on stage, though, featuring other actresses, strippers and beautiful women.
For my part, my role is to represent the event and once again meet the public. I'll be there Friday and Saturday at 1600, 1800, 2100 and at midnight in my own stand. Autographs and souvenir photos (taken with phones) are free, and I'm happy to say it will be possible to get my best films on DVD and buy posters. Finally, there will be a Petit Coeur fashion show during which girls will have fun wearing the complete collection.
And in Europe, do you still appear in person frequently?
I decided to slow down on doing so many shows in Italy, stopping in France to concentrate on the USA. However, I intend to tour in England soon. It is time for me to continue to push the boundaries!
Your lingerie brand now is known worldwide, right? Are you pleased to have met the challenge of adding another string to your bow?
I am very happy, because it is an effective beginning. The challenge now is to stay, to grow, because it is hard to launch a business, but to make it successful over time is harder. So, I can really be happy if in five years Petit Coeur still exists and has its own shops.
Thank you, Katsuni. Is there anything else you would like to say?
Always! If you want to see more of me, visit my official website, where you can find all of my past scenes. I also have live chat and webcam at KatsuniLive.com. Finally, to keep up with all of my adventures, I invite you to follow me on Twitter.
Katsuni will be in France only a short while before returning to the U.S., where she still has tons of projects on her schedule.
The international star revolves around the planet like an electron around the nucleus of an atom. She moves so fast that it becomes difficult to catch her … which is all the more reason not to miss her in Lille Dec. 3-5.
Image courtesy of Petit Coeur LLC.
Comments are closed.