A Different Kind of Exhibitionism: Puma Swede's Art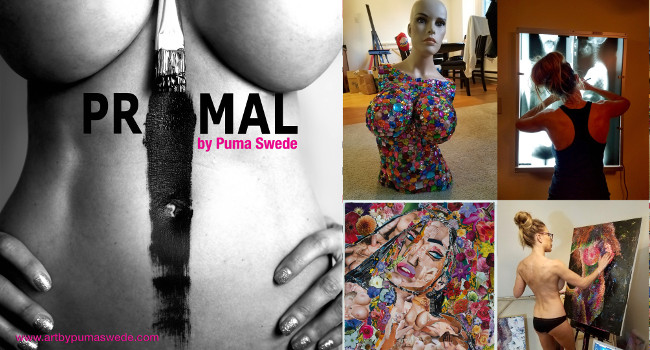 STOCKHOLM – In her native Sweden, Puma Swede has conquered both adult and mainstream entertainment. This weekend, she'll add another conquest: the art world.
Swede's first solo exhibition, titled "Primal," will take place April 29-30 at Club Prive. The showcase features full-scale mannequins, collages, public nudes, "fuckart" (Swede having sex on canvas), X-ray light boxes and adult star portraits, all created by a woman more widely known for her art in explicit videos.
"I don't believe doing one form of art," Swede said. "I do whatever I feel like, as long as it's sexy.
"In Europe and Sweden, there's been a lot of discussion and debate whether watching porn leads to violence towards women and rape," she said. "I want to show there's a positive place for sex, and it's up to us women how and what we want to use our bodies for. Without sex, we wouldn't even exist. Let people who love sex and nudity enjoy it without shaming each other."
Swede's art reflects that philosophy.
"My art primarily highlights themes related to my personal sexuality, humor and lifestyle," she said. "My passion for art started at age seven. I used to make paper earrings fastened with thumbtacks.
"My art came together after I realized how I could combine it with my sexuality," she continued. "In a way, replacing the video camera on my body with a canvas and paint.
"Sex and nudity are natural and should be shared more openly," she added. "I have been working very hard on my art and preparations for this upcoming show. I can't wait to display it for the world to see the reaction."
More information about the event and Swede's art may be found at ArtByPumaSwede.com.
Follow Swede on Twitter and Instagram for the latest about all of her careers.
Comments are closed.