New Male Toy Combines VR Gaming, Masturbation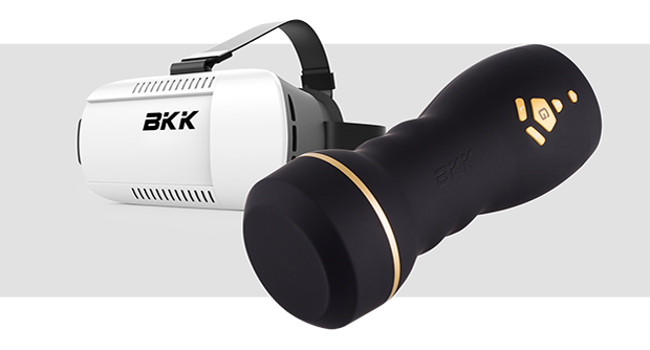 AMSTERDAM – A new virtual reality toy for men combines a traditional masturbator with motion-sense technology to give users a playtime experience in the location of their dreams and with the woman of their desire.
BKK Cybersex Cup, partially funded by an Indiegogo campaign, debuted in October at the 2015 Asia Adult Expo – Hong Kong. The first units became available in January.
The standard BKK Cybersex Cup kit includes a motion-sensing masturbator, a VR headset and a mobile porn game application that works with both.
The masturbator contains a textured internal sleeve made of silicone, and a motion sensor is installed inside every unit. VR porn may be downloaded onto a mobile phone or watched online. Get the video ready and put the mobile phone into the BKK VR headset, fine tune the lens to focus, and enjoy.
Want something a little different? How about a cyber-girlfriend? The mobile application reportedly is the first-ever 3D porn game for smart phones. The app allows users to build their own customized cyber girl. Simply pick her body type, skin tone, hairstyle and the outfit she wears, and then put her wherever you want and twist her into any position you desire.
The VR headset supports a wide variety of smart phones from 12cm (4 inches) to 15cm (6 inches), including iPhone 5, iPhone 6Plus, Galaxy Note and Nexus 4. Activate the app, slide the phone into the headset, and dive into a virtual reality experience.
BKK Cybersex Cup is available in Europe from Eropartner Distribution.
"We are always on the lookout for new products, and when we heard of BKK's Cybersex Cup, we knew immediately that we had to bring this to our customers in Europe," said Elcke Wieffering, Eropartner's head of purchasing. "It makes a great addition to our innovative and unique product portfolio."
The product's recommended retail price is €149.95.
Comments are closed.