Natasha Marley Wants Sex Again and Again
[COLOR=red]YNOT Europe exclusive[COLOR=black]
[/COLOR][/COLOR]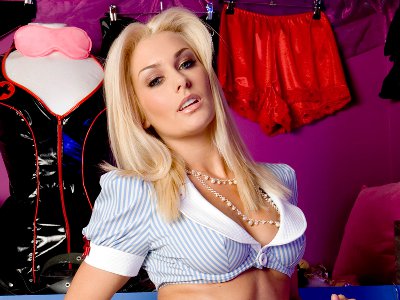 [COLOR=red][COLOR=black]YNOT EUROPE – British model Natasha Marley has the body and measurements of your dreams, natural breasts and a face of rare beauty. After appearing on the pages of international fashion magazines since the age of 18, in 2010 she made the move to adult entertainment. Her career took off like a rocket.
When Bluebird Films founder Paul Chaplin offered her the lead role in the hardcore parody Bonny & Clide, she leapt at the opportunity. In the award-winning film, she plays sexy, glamorous gangster Bonny Parker to Chaplin's Clide. If her first big role is any indication, her looks and erotic talent will take her far in the X-rated world.
After completing a second film, Natasha Marley: For Your Eyes Only, she was picked to play the lead in Bluebird's next big-budget release, Katwoman XXX. The studio hopes the new title, set to debut in October, will build on the success of its multiple-award-winning Batfxxx: Dark Night, and with Marley's outstanding sexuality heading the cast, Katwoman XXX could even surpass its predecessor.
YNOT Europe: Hi Natasha, could you introduce yourself to our readers? Where are you from? Why did you start modeling? What is your background?
Natasha Marley: Hi everyone! I'm Tasha, I'm 26 and I'm from Aldershot in England. I was raised in the military life as my dad was in the army for 22 years. I was always in trouble growing up and eventually was sent to boarding school. Then I went on to do 11 GCSE's when I was 15 and then to college, where I did an advanced GNVQ in health and social care, an A Level in biology and an A Level in technology. I'm not just a pretty face, you see! [Ed. Note: GCSE and GVVQ are academic qualification certificates and vocational certificates in England)
I started modeling when I was 18 for a website that did light bondage, and soon after that I got myself an agent and it went from there.
Before becoming a Bluebird Girl, you were a glamour model. Tell us why you went from charming to porn. Could you explain how you become a porn star?
Ha! That's easy! There is no money in modeling anymore, and I love sex.
[/COLOR][/COLOR]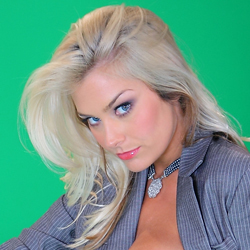 [COLOR=red][COLOR=black]You began to shoot hardcore movies with the blockbuster Bonny & Clide. Before filming, did you know very much about the Depression Era American gangsters who inspired the movie, or did you have to research Bonnie Parker in order to play the role? Did you easily slip into the costume and personality?
I love the whole Bonnie and Clyde story. And of course I researched her character and the movie before shooting. I wanted to be able to use her mannerisms and try to be like her personality-wise.
I loved drama as a girl at school and so love role-playing and trying different characters. Bonny was very fun to play.
Bonny & Clide was your first hardcore movie. Were you nervous before your first boy-girl sex scene? Have you overcome your fears, or are you still apprehensive before shooting?
I wasn't nervous at all. I'm an exhibitionist and love to perform. so I'm sorry to give you a very boring answer, but I had no fears to overcome.
In Bonny & Clide you performed hardcore scenes with Paul Chaplin only. Do you plan to work with other male partners in the future?
I have no plans to work with any male partner but Paul — not for now, anyway. But I will take on any sexy ladies who come my way!
Tell us about Natasha Marley: For Your Eyes Only.
This movie is about my fantasies, revealed "for your eyes only." Each of the scenes is different: a modeling session, pool table, job interview and so on, with really hot girls and Paul Chaplin as well. I had a really good time making it and getting to live out some fantasies, and I hope everyone watches it and gets very turned on.
Do you like women and working with them?
I love women! I have always been attracted to beautiful women and hope to work with many, many more.
What type of woman appeals to you?
I just love a woman's body. I think the curves of it are very sensual. I also like a lady to be elegant and carry herself well. I hate girls who slouch and don't take care of their appearance.
[/COLOR][/COLOR]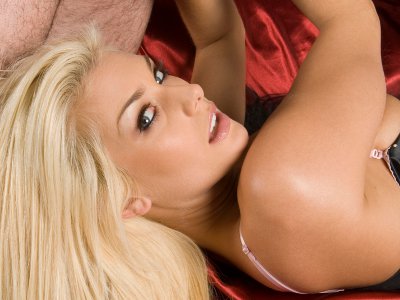 [COLOR=red][COLOR=black]Is there a model or actress who inspires you?
Oh yes — Marilyn Monroe, who was an inspiration and role model for her time. She helped many women all over the world discover their femininity and sexuality.
And sex with men…. Do you like them to be dominating? What type of man turns you on?
I am very submissive with men as well as women. I like a strong, dominant man. Personal hygiene is paramount to me, as are good teeth, clean nails and a good body — not too muscled, just toned and well built. And if you can make me laugh, then I'm yours!
Do you work with other productions, or are you under exclusive contract with Bluebird Films?
I am happy to say I'm exclusive to Bluebird. I did have a bit of interest in me after Bonny & Clide came out and after the AVN Awards, which was interesting. To go from being virtually unheard-of to having some amazing companies approach you is pretty mind-boggling. But Bluebird is a fantastic company to be with, and the whole team, England and U.S., are fantastic and treat me so well.
In what types of scenes do you perform — just one-on-one, threesomes, foursomes, orgies? Do you do anal or other sexual acts? Are there types of scenes you will refuse?
What I'm doing now I am happy to keep on doing for the time being. I haven't fully made up my mind on what I will and will not do, and one should never say never, so for now I'm keeping quiet about this matter.
What are your future plans? Any new movies in the works?
Oh, many many more! I don't want to give too much away, but I am heading to the U.S. for a month of work on three major features. I'm sure the titles Katwoman XXX, Salem and Baberunners give you an idea, but you will all just have to keep following Bluebird to see what comes next.
[/COLOR][/COLOR]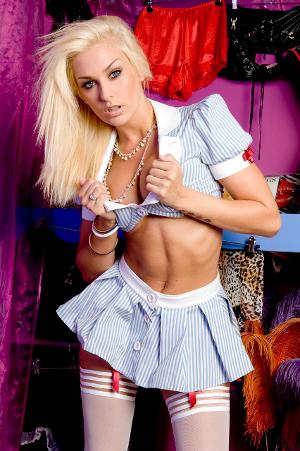 [COLOR=red][COLOR=black]How do you spend your free time? What do you like to do?
I have a very active life outside of filming, but I'm not a party girl. I prefer to look after myself, so you will either find me walking my four amazing dogs, fishing, cooking or having a beauty treatment (or five!). Eating at good restaurants and going to bingo with friends are some things I enjoy. I also like to shoot pool, play poker or just go to the pub for a pint.
Do you communicate a lot with your fans, and if so, how?
I used to communicate with fans for many years, but due to personal reasons I decided to become more private. I give myself to the fans on film and do magazine interviews to stay in touch.
Anything to add, Natasha?
I just want to say "thank you" to my team and my company, Bluebird, for giving me two amazing years. And most importantly, thank you to my fans! I love you all! Please visit the Bluebird website and follow us @BluebirdFilms on Twitter to find out what we're working on.
All images © Bluebird Films; used with permission.
[/COLOR][/COLOR][COLOR=red][COLOR=black]
Comments are closed.