Nominations Open for 3rd Annual YNOT Awards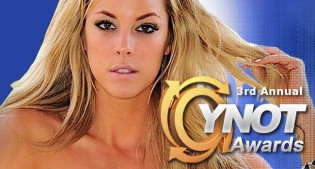 BUDAPEST – Nominations opened Friday for the 2013 YNOT Awards. The third-annual awards ceremony, to take place Sept. 25 during The European Summit, will honor winners in 29 categories — four more categories than in 2012 and nine more than in the awards' inaugural year.
The mission of the YNOT Awards is to provide the adult industry with a unique — and uniquely impartial — means of recognizing excellence in the adult internet sector, according to Connor Young, president of parent company YNOT Group LLC.
"The YNOT Awards are different by design," he said. "They allow the industry itself to determine who should be honored. Although the nominees are put forth by a group of jurors who are active in the business, the entire industry is invited to vote in order to determine the winners.
"Like we did for the first two years, we're limiting the number of categories and nominees this year to ensure the YNOT Awards are about recognizing true excellence, not nominating everyone in the industry," he added.
Anyone with adult industry credentials may apply to become a juror. Visit this page for more information and the application.
The final slate of nominees will be announced Aug. 15. Public voting will commence the same day and continue through Sept. 18. Industry members may visit this page to register to vote. Only those currently employed in the adult entertainment industry are eligible; credentials will be verified.
According to YNOT Group Vice President Jay Kopita, this year's awards ceremony will be the classiest yet. The venue, Symbol, has been praised for both atmosphere and cuisine. Located in one of the most exclusive areas of Budapest, the site comprises a 220-year-old house that has been converted into a restaurant, wine cellar and art gallery. Hors d'oeuvres and dinner will be part of the proceedings, and complimentary transportation to and from The European Summit's headquarters hotel will be provided.
"We are focusing this year's YNOT Awards ceremony around a very special dinner, and space is very limited," Kopita said. "This show will be classy."
For more information about the YNOT Awards, visit YNOTawards.com. To investigate sponsorship opportunities and ceremony reservations, email Kopita or ping ICQ 92418228.
Fleshlight / FNCash is the Diamond Sponsor for the 2013 YNOT Awards. Gold Sponsors include RIVCash, SexGoesMobile, Webbilling, MojoHost, YNOT Mail, Grand Slam Media, CumLouder, CommerceGate and Manwin.
Comments are closed.