Organisation Warns UK Shops to 'Lose the Lads Mags'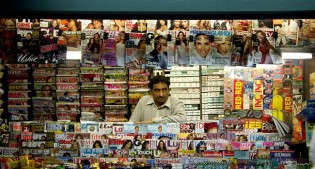 CHESHAM, UK – Britain is at it again. The country that gave rise to the ever-popular Puritans and hypocritical Victorians is now embroiled in a mock-moral fight to ban men's magazines — "lads mags," in Britspeak — from brick-and-mortar stores.

Self-styled feminist campaign Lose the Lads Mags has embarked upon a media campaign intended to intimidate mainstream retailers by threatening vague legal action under the country's Equality Act 2010. According to section s29 of the act, "A service-provider must not, in relation to the provision of the service, harass … a person to whom the service-provider provides the service."
McColgan indicated retailers who offer lads mags in their establishments may be violating the law, because "the display of pornography and 'lads mags' is capable of amounting to sexual harassment as defined by the Equality Act 2010
Aileen McColgan, a barrister at Matrix Chambers, has consulted with LTLM about the issue. In advice posted on LTLM's website, McColgan indicated retailers who offer lads mags in their establishments may be violating the law, because "the display of pornography and 'lads mags' is capable of amounting to sexual harassment as defined by the Equality Act 2010: 'unwanted conduct … of a sexual nature' that has … the 'effect [even if not the purpose] of violating [a worker's] dignity, or of creating an intimidating, hostile, degrading, humiliating or offensive environment for her [or him]….' Requiring employees to work with pornographic material may amount to indirect discrimination connected with sex, and/or with religion or belief, including a belief in gender equality." [Bracketed words and phrases presumably are McColgan's, as they do not appear in the act's text.]
According to McColgan, "unwanted exposure to pornographic material, whether in the capacity of worker or customer, is capable of giving rise to a legal claim under the Equality Act. This is because workers and those who access goods and services (including by visiting a shop) are protected under the Equality Act in respect not only from sex discrimination but also from sexual harassment … which conduct 'has the purpose or effect of violating [the complainant's] dignity, or creating an intimidating, hostile, degrading, humiliating or offensive environment for [the complainant].'"
With McColgan's perspective firmly in hand, Lose the Lads Mags recently published an open letter in the UK's Guardian newspaper.
"The Lose the Lads Mags campaign by [sponsoring feminist organizations] UK Feminista and Object is calling on high-street retailers to immediately withdraw lads mags and papers featuring pornographic front covers from their stores," the letter noted. "Displaying these publications in workplaces, and/or requiring staff to handle them in the course of their jobs, may amount to sex discrimination and sexual harassment contrary to the Equality Act 2010. Similarly, exposing customers to these publications in the process of displaying them is capable of giving rise to breaches of the Equality Act.
"Every mainstream retailer which stocks lads mags is vulnerable to legal action by staff and, where those publications are visibly on display, by customers," the letter continued. "There are, in particular, examples of staff successfully suing employers in respect of exposure to pornographic material at work. Such exposure is actionable where it violates the dignity of individual employees or customers, or creates an intimidating, hostile, degrading, humiliating or offensive environment for them. We therefore call on such retailers to urgently heed the call to Lose the Lads Mags."
That the Lose the Lads Mags campaign itself could fall under the heading "harassment" (or class-conscious, self-righteous bullying) has not been lost on the British press.
"This campaign has nothing to do with defending the rights of those less fortunate than themselves," the Telegraph's Toby Young observed. "If it was, they'd be campaigning to stop the widespread abuse of women in the Middle East or against female genital mutilation in this country. No, this is simply about preventing men — predominantly working-class men — from buying magazines that they consider vulgar and in poor taste."
LTLM has started an online petition exhorting retailers to "lose the lads mags" but has not indicated what it intends to do with the document.
Image: Background from the homepage at LoseTheLadsMags.org.uk. Evidently, the group is immune to its own warning.
Comments are closed.