Bluebird Films Founder Paul Chaplin is a Colorful Character
[COLOR=red]A YNOTeurope.com[/COLOR][COLOR=red] exclusive interview[/COLOR]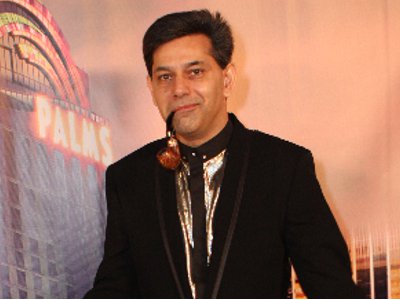 YNOT EUROPE – Lawyer and physician, author, producer, director, actor, photographer, musician…. Paul Chaplin has more than one string to his bow. In 2005, he founded London-based Bluebird Films, which today is among the most important international production houses specializing in adult entertainment.
Successively in 2010 and 2011, Chaplin received the AVN Award for Best Foreign Director. He attributes his success to boundless creativity and a willingness to offer "a different kind of film" for adults.
Chaplin has become almost unavoidable in the press; even the English tabloid the Daily Sport has given him a column each week in its Saturday edition: "Paul Chaplin's PC World." Porn and technology are topics he writes about with enthusiasm while spilling gossip and presenting new Glambirds and Bluebird Films.
YNOT Europe captured a few precious hours of Chaplin's time for an exclusive interview.
How does one "pass the bar" at porn? [Ed. note: In French, the phrase "barreau à la barre" is a pun. "Barreau" is the term for a legal bar, and "barre" means erection.]
Paul Chaplin: Similar skills are needed. You must know your lines; be able to react to the unexpected. And you must have the hardiness to see a tough trial through.
Businessman, you always are, but do you continue your work as a lawyer?
I certainly do. It's good to keep a balance between the normal world and the crazy. Your readers can judge which of these the legal world is.
On Bluebird Films: How long have you been making movies?
Since 2005. We actually started with music videos, then someone had the idea of getting the girls to stop singing and take their clothes off. The rest is porno history.
You entered the retail market with a large number of movies in your catalog. Was that part of your business strategy? What did you expect from that move?
Most producers make and release a movie, then rely on those sales to fund the next one. So, they are very weak on price. But because we had a library of more than 300 [high-definition] titles when we came to market, we could get the price points we wanted. We could do deals no other newcomer could do, because our customers did not have to worry about us being around in a year's time. It also allowed us to be big on the web from Day One.
You started in Great Britain, and then quickly moved to the United States. Why?
The U.S. is the world's biggest market and has the best production facilities. We couldn't have made BatFXXX in the UK, for example.
What interests you about having studios in the USA, England and Prague?
It allows us to make local product with local talent for local markets. It means being a global company that supports regional markets.
Tell us about the different lines for Bluebird studios, the various branches like Glambirds, etc.
We have 20 different labels, which divide up our movie styles. Fusion is interracial, Latin and Asian. Premier is our big box office movies, and Glambirds is all about the world's biggest glamour model and TV stars going "bad girl" and doing hard adult films. We're the only company in the world to have this lineup. Glambirds lets the audience see these incredibly hot girls doing the scenes they only ever dreamed about.
How many films does the studio produce each year?
Worldwide, around 300.
Why do you direct some of the "Super XXX" parodies?
I write all the movies, so it's natural to take a role in directing when I can.
You have an innovative vision and creativity in production. How do you perceive pornography, and what's the best way to convey that to consumers?
I don't think of pornography as a genre separate from mainstream. For me, Bluebird is about exploring creativity and fantasy. I believe we have unique skill in making a union between drama and sex on screen.
Two awards in 2010 and eight awards in 2011 for such titles as BatFXXX: The Dark Night, Bonny and Clide…. How do you feel about these wins?
It is amazing to achieve this approval of our creative vision, and for our production techniques in making these visions a reality.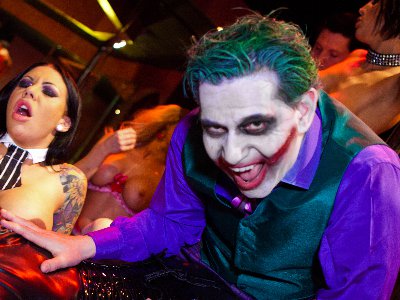 You played The Jo-Kerr in BatFXXX. Could you tell us about becoming that character?
It is any actor's dream to play this role. You must be able to lose completely your inhibitions. I know the girls on set had genuine fear of the character, with that amazing makeup. As a character, he is very close to a mime. You must be big in your movements and play the emotions with your body. And it uses so much energy to make this operatic character, and then to actually perform in the sex scenes.
In addition to features, you also produce gonzo movies and vignettes.
We do around one-third each of gonzo, small features and big features during a year.
Who are the directors with whom you work?
Bluebird uses me, Nick Steele, Steve Holmes and Marc Twain as directors. Our first female director is Martha Washington. We're releasing her directorial debut, Tits, Tats and Ass, in March.
How many girls, both European and American, have you signed under exclusive contract? Why?
We have around 10 contract stars in Europe and the USA. The different girls appeal to different markets. Working with the girls under contract allows us to develop their talent, which you can't do when girls just come and go.
You've met the challenge of running hardcore girl-girl and boy-girl scenes with charming models who have never done porn before, like Anna Lovato and Natasha Marley. Why this choice?
Girls like Natasha Marley, Anna Lovato and Gemma Massey have very big fan bases from their glamour careers, so there is very big interest in everything they do. Also, these girls make the Bluebird name synonymous with maximum glamour and exclusiveness. It is like being the Christian Laboutin of porn.
At the distribution level, how do you get your product out internationally?
We handle all our own distribution, working with distribution partners in each country.
What directions are you considering for the future of Bluebird Films? You already have a TV channel, so what else is there?
We have seven TV channels. We are now bringing our Glambirds live to the web, so that guys all around the world can talk with them on the phone and interact with them in live web action.
Anything to add?
This is the really busy time now, working on our big movies for 2011. We have Baberunners, our Bladerunner parody. Then Katwoman, which is the sequel to Batfxxx, and the Jo-Kerr rises again. Also Salem, about the Salem witch trials in colonial America. Plus a very special project: Charlie, where I play my namesake, Charlie Chaplin.
Trendsetter, creative force with which to be reckoned, businessman…. Chaplin is a colorful character who never ceases to surprise. As we say in french: Chapeau Monsieur Chaplin!
Comments are closed.