Philippe Ferro: Portrait of a New Titan Man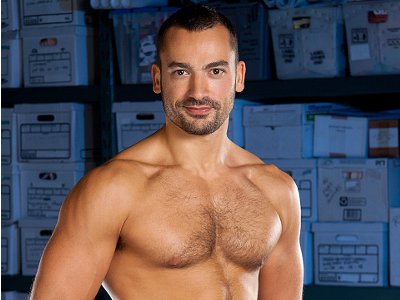 YNOT EUROPE – Following François Sagat and Aymeric Deville, gay French actor Philippe Ferro has signed an exclusive contract with one of the giants of American gay porn, Titan Media.
Ferro won the X Star Story contest hosted by Titan Media and Yagg, capturing a shoot with Titan as part of the prize. His first on-screen appearance led to a two-year exclusive contract with the studio.
X Star Story is an online talent contest that aims to discover future gay porn stars. Professional judges including Sagat, Bruce Cam, Brian Mills, Keith Webb, Cyrille Marie and Yannick Barbe voted, and Ferro emerged with a trip to San Francisco to film for Titan along with $1,000.
In summer 2010, 27-year-old Ferro had never shot a XXX scene. By late September, he was a star in the eyes of Titan directors Mills and Cam, who also founded the studio. Cam described Ferro as shy but ready to push his limits.
"Philippe has what it takes to be the next TitanMan," Cam said. "He is handsome, virile and knows how to charm the audience in front of a camera. I also like the fact that he is a bit shy but has desire to excel…. I'm sure Titan fans will love him!"
The new gay star took advantage of his presence on U.S. soil to participate in Folsom Street Fair, one of the largest leather and fetish gatherings in the world. Present in Titan's booth alongside other TitanMen, Ferro met his first fans, autographed photos, etc. He enthusiastically reported his first public performance was a success.
YNOT Europe wanted to know how this young Frenchman viewed his new status as a gay porn star.
YNOT Europe: How did the X Star Story contest work? Were you surprised?
Philippe Ferro: The competition takes place in three stages. First, there is the selection of candidates on camera and through online profiles. Then the audience chooses eight candidates. From that moment the temperature begins to rise with the launch of an amateur video. And finally, the jury votes to elect a new star: Me!
After … everything is going very fast. You get a ticket for San Francisco and you disembark before the cameras to shoot for Brian Mills in a scene with three hot guys.
What motivated you to enter the competition — the desire to perform in a porno film or the desire to please and show off?
Frankly, I'm not sure. I did not think I had a chance to win. For one thing, when sending my pictures to participate in the selection process, the website wanted three photos and Yagg only received one of the photos I sent. They quickly contacted me to complete registration.
In terms of my motivations, I love to please, but I also wanted to flirt with the world of porn and see what it meant. Titan today, I think I can say it is not at all synonymous with vulgar.
Why did not you not stay in France to work? Lack of opportunity or by choice?
Did you see the result? I just find the work of Titan Media beautiful.
So you flew to San Francisco, where TitanMen welcomed you onto American soil.
Yes, "welcomed" is the right word. After a 24-hour flight with with one unscheduled landing late at night, no way to follow my diet before the shoot, half a gym…. Bruce Cam met me at the airport, I was immediately in the mood.
Incidentally, the return was the same boat, with optional baggage loss and more.
How was your first experience in the film Thrill Ride in September under the direction of Brian Mills?
I'll make it simple: Yannick, editor of the site Yagg, described to me the benefits of doing porn with Titan Media. They took an unknown to the rank of porn star without any nonsense.
When you're in porn, Titan is it. The whole team respects you and makes you feel like you belong. The casting of other actors for your scenes is comfortable.
What was your role: rather passive or active and dominant?
Uh, humorous moment! I started by being passive [a bottom] with David Anthony, and I had to be the same with Aymeric Deville. But then the team decided the scene should be different. Brian gave the direction to "change," and I passed from bottom to top without really knowing how.
What do you prefer sexually in real life?
Being in my bed with my boyfriend…. I am still looking!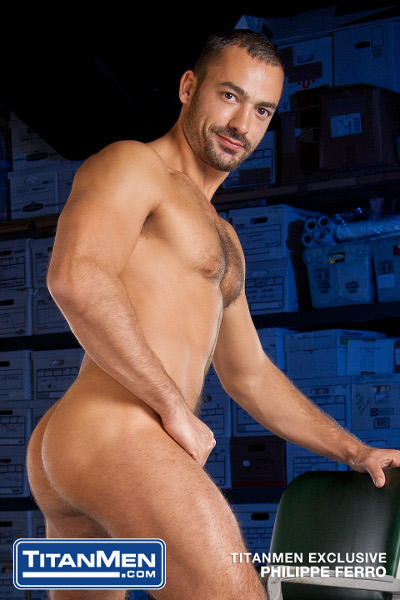 Exactly what is your type of man?
Light brown hair with a three-day beard, but I am especially sensitive to the charm of the opposite. The proof is that my ex is blond.
After this first shoot you signed an exclusive contract with Titan Media. Everything happened very fast for you. How do you feel about that?
Wow! Thank you, Yagg! Thank you, Titan!
Did not you feel like everything was out of your control? Or were you in a euphoria and not worried about control?
Frankly, this experience was really great. The photos are beautiful, the film is great, I am proud and humbled by this adventure. So for sure I want still more: more movies, more partners, more, more, more…. But Bruce told me once: "Please do not become a hamburger." [Ed. note: We think Ferro meant Cam warned him not to let the experience inflate his ego.]

Your first contact with your fans at the Folstom Street Fair went very well. It seems that you already conquered your audience before you even shot your first film. How is life as a star?
The [other Titan] guys were giants. Thank you all. I had a great day. The Titan team was there to help. [They are r]eally nice guys, and I talk to them now on Facebook. It is really cool.
I am still very down to earth despite this life and the sex scene. I remain myself. I have my job as a bartender in Paris where I live, and that's fine.
There really is something striking when you're a TitanMan. Everyone looks at you and wants to know who you are. However the day before, when I went out for a drink in the "Village" in San Francisco, I went to bed alone!
Are you a fan of any porn stars?
Love another porn actor besides me? Impossible! [laugh]
What are your plans with Titan Media?
I just signed a two-year contract and I'm confident in the team, so I will let them decide for me. I admit that signing an exclusive contract was very rewarding, but also and above all very reassuring. I'm not sure I would go look elsewhere now. I still have some apprehension about the business, but not with Titan.
How do you see your future?
I will develop my personal life, and porn comes after. Otherwise, I see myself with my future man and our dog … in Paris!
Would you like to add anything?
For those who measure between 1m78 and 1m85, who have character and are honest (but not too honest!), a bit macho, possessive, chiseled … please send me a picture and a brief introduction. [laugh]
Titan Media sees a very promising future for its brand new gay porn star. To see more of him before his next shoot, Yagg offers an exclusive "Making of a Titan Man" behind-the-scenes video on its website.
Photo: TitanMen
Comments are closed.