pjur Spotlights Safety Campaign at eroFame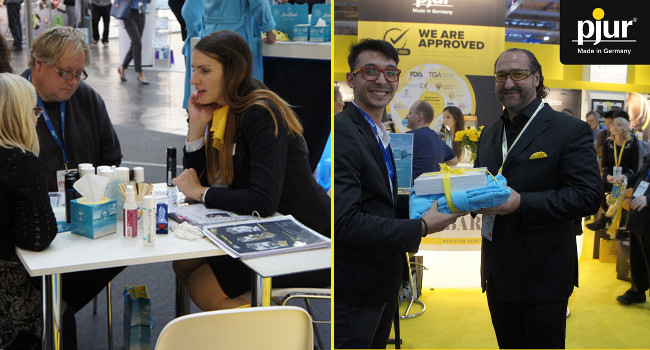 WASSERBILLIG, Luxembourg – This year, pjur's trademark bright yellow wasn't the only color dominating the company's stand. The rich turquoise blue of the new pjur SPA ScenTouch range also created quite an impression.
In addition to the new products, pjur also highlighted a product-safety campaign it began earlier this year. According to the company, many retailers do not know whether the manufacturers of products they sell prioritize product safety, quality management and seals of approval. In the future, pjur wants dealers to be much more aware of these issues. The topic generated "a lot of interest," a spokesperson said.
The SPA ScenTouch collection also generated interest, according to pjur Group founder and Chief Executive Officer Alexander Giebel. The five massage lotions allow the skin to breathe, he said. Available in Cherry Dream, Strawberry Summer, Vanilla Seduction, Melon Breeze and the non-perfumed option pjur SPA ScenTouch Neutral Way, the lotions do not contain any oil, silicone, fat or water and so do not leave behind a greasy film on the skin.
"The new products are a real innovation unlike any other product on the market to date," Giebel said. "They do not leave a greasy film on the skin, make the skin feel soft and allow it to breathe. Furthermore, our products do not leave stains on clothes and other textiles.
"Everyone who tested these lotions with a massage at the pjur stand was impressed, and we received positive feedback across the board," he added.
In addition to showcasing the new products, pjur won three awards: An EAN Erotix Award in the "Best New Product Line – Body Care" category for its new product range, an award in the "Customer's Safety" category and, once again, a SIGN Award as the "Best Lubricant Company of the Year."
Find out more about pjur at pjurGroupUSA.com.
Comments are closed.