Porn Star Suspended Over Gov't. Side Job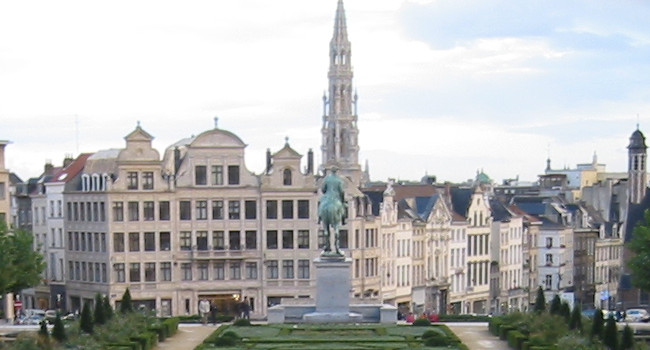 GHENT, Belgium – Belgian porn studio Slapwel Lutgardis announced today it has indefinitely suspended popular "Slapwel Slut" Elise Clijters for taking a side job with the Belgian government, which the studio said constitutes a violation of a non-compete clause contained in the performer's contract.
"For the duration of her contract with our company, Ms. Clijters is strictly forbidden from fucking people in a professional capacity on behalf of anyone except Slapwel Lutgardis Group," said Slapwel CEO Jean Claude De Bruyne. "Obviously, anyone who works for the government, be it in Belgium or any other country, is constantly engaged in fucking the public on a continuing basis, therefor Elise's so-called 'side job' is a clear violation of her contract."
Clijters called the claim she violated her contract "completely ludicrous."
"My work for the Federal Public Service is done in the interest of protecting the people of Belgium, not for the purposes of engaging in paid sexual intercourse. I have always done that in strict accordance with my Slapwel contract," Clijters said. "This suspension is vindictive and seriously harms my reputation as a respected and internationally lusted-after adult performer."
In challenging her suspension by the studio, Clijters' attorney Hieronymus Merckx argued her work for the government was "completely separate" from her efforts on behalf of Slapwel, because the performer "never identified herself as a Slapwel employee or did anything to claim an association with the studio" while performing her duties for the FPS.
"This suspension is unnecessary, punitive and unfair," Merckx said. "And speaking of her contract, Slapwel has guaranteed my client from the beginning they will only be unnecessarily punitive to her in the context of BDSM scenes, so who is really in violation of the contract here?"
De Bruyne disagreed, however, noting that in her frequent social media posts, Clijters has "not consistently maintained the essential firewall between porn performer and bureaucrat."
"In her current profile picture, Ms. Clijters is seen wearing her official FPS lanyard and credentials, but if you look at the computer screen in the background, the image displayed appears to be a screenshot of her award-winning double-penetration scene from Double-D Double Team," De Bruyne said. "Either that, or it's a picture of a sesame seed bagel slathered in a great deal of salmon spread; it's hard to tell because the image on the screen isn't in good focus."
De Bruyne said the uncertainty concerning the profile picture is one reason Slapwel has only suspended Clijters, not terminated her contract entirely.
"In addition to the possible bagel image, there are many other ambiguities in this situation," De Bruyne said. "For example, it's not entirely clear whether Elise has produced any documentation of the process of fucking the Belgian public, or if she is having sex with these citizens entirely off-camera, in which case the breach of her contract is not a serious one, and we'd be happy to have her perform for us again in the future."
Merckx said his client is "open to reconciliation" with Slapwel, but only if the studio apologizes for the suspension and admits to its mistake.
"It's bad enough they've embarrassed Elise in front of her fans by outing her as an employee of the FPS, but they've also questioned her honesty and integrity as a porn performer," Merckx said. "Fans don't want to picture Elise putting things in filing cabinets or inspecting documents to assure they've been stamped with the proper seal. They want to picture her with a penis in one or more orifice — and obviously, that's how Elise wants to be pictured, as well."
For Belgium, the Clijters suspension is the second recent, high-profile example of cross-pollination of the adult industry and government, leading some observers to wonder if there's more going on than meets the eye.
"I've long suspected there's a deep, sinister connection between the Belgian government and the porn industry," said Timothy Titus, a London-based blogger, cyber-ethicist, amateur theologian and author of Wake Up and Smell the KY: An Exposé of the Porn Industry's Outsized Influence in the New World Order. "Plus, we already know the Belgians can't be trusted. Just look at the sick, unspeakable things they do to waffles."
Comments are closed.