Porn for Women Expected to Pay Big in 2014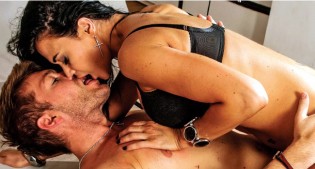 LONDON – According to a recent Cosmopolitan magazine article, 87 percent of women ages 25-39 enjoy adult movies; 13 percent have viewed porn online at work. The percentage of women who enjoy porn-watching is larger than the percentage of women who admitted using sex toys, according to Cosmo.
For adult content producers that's good news.
In business since 2003, Joybear specializes in "porn for women." The studio re-launched its website this week, introducing consumers and affiliates to an updated look and more intuitive navigation.
The new Joybear.com, managed by Manica Media, gives prime real estate to the award-winning creations of producer Justin Ribeiro dos Santos, whose XXX movies blend cinematic quality with story-driven tales in which empowered women play primary roles.
"Women watch porn and would watch it just as much as men do if there were more video content available to fit their needs," Ribeiro dos Santos said. "Joybear films offer more depth and sensuality. We focus on our female clients and couples who find the misogyny of most adult entertainment off-putting.
"When we release a new video, our goal is to thrill the women watching it, be it alone or with someone special," he continued. "Our audience already exists in the broadcast sector; however, working with Manica opens up our portfolio to a much wider customer base."
Part of the arrangement between Joybear and Manica Media is the inclusion of Joybear.com in the Manica Money affiliate program. The program pays up to 70-percent recurring revenue share or 25 euros per sign-up.
"Joybear has featured in major mainstream news publications including Esquire, Cosmopolitan, the Sunday Times and CNN and was recently featured on Huffington Post," said Erwin de Boer, vice-president of online media for Manica Media. "Combined with 400,000-plus YouTube watchers, this demonstrates nicely the brand's existing consumer following.
"For any affiliates with female or couples web traffic, Joybear.com is the perfect fit," he added. "If you are unsure, show [the site] to your girlfriend or wife and see what she says."
Comments are closed.