The Queen Bee: PulsePlate Tech for Women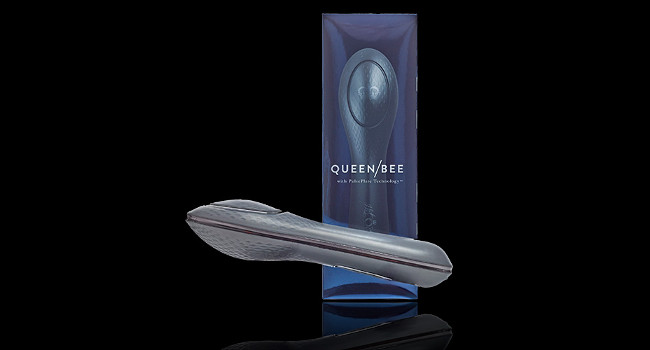 LONDON – Hot Octopuss has launched The Queen Bee, a clitoral stimulator powered by the company's proprietary PulsePlate™ technology.
The patented design features two surfaces offering different experiences. One provides rumbly sensations directly to the clitoris, and the other produces a gentle massage. Both offer six different pulse patterns and create steady oscillations that can be increased or decreased using buttons on the toy.
According to the company, the most important part of The Queen Bee is the technology inside.
"While most sex toys use vibrations for clitoral stimulation, The Queen Bee uses a 'piston-type' mechanism in order to generate extremely deep and rumbly oscillations," a company statement noted. "Unlike vibrations, which are low-amplitude and shake only slightly, oscillations are high-amplitude [and travel] a greater physical distance. The average vibrator might move around 0.5mm — certainly enough to stimulate, but not as powerful as the 1.5mm that can be achieved with an oscillating PulsePlate."
The technology was inspired by medical devices, the statement also noted.
"Oscillating technology has been around in the medical world for years, but it was only brought to the sex-toy market when one of our founders, Adam Lewis, spotted an article in a medical journal about oscillating technology being used to induce orgasm in men with severe spinal injuries," the company stated. "The power of oscillation could give men orgasms where nothing else could. And Adam realised that this tech could be made smaller, sexier and more affordable so that every guy could try it."
Lewis's epiphany sparked the invention of PULSE, the company's first product.
"Using a small, coin-sized PulsePlate™ on the inside of a toy designed to wrap around a penis, the oscillations could be used to send throbbing sensations from the sensitive frenulum right through the head and shaft of the penis, giving many thousands of men intense and powerful orgasms," the statement noted.
Adapting the technology for clitoral stimulation proved challenging.
According to the company's statement, "First we had to adapt the PulsePlate™; make it larger and oval-shaped to allow for broader stimulation of the vulva and clitoris. Next, we had to find the most ergonomic shape for the sex toy. We researched the most common clitoral masturbation positions, and adapted the shape of the toy so that it would be easy to hold and direct the sensation no matter which of the positions you were in.
"We also learned that many people want more build-up prior to clitoral stimulation, and with the powerful oscillating PulsePlate™ we wanted to offer two different stimulation options," the statement continued. "So, as well as the PulsePlate™ on one side, there's a gentle massage area on the other side of the head of the toy, to allow for a gentle build-up."
The device is waterproof and rechargeable and available at HotOctopuss.com.
Comments are closed.