Rocco Siffredi: the 'Italian Stallion' Branches Out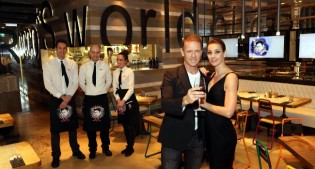 BUDAPEST, Hungary – Rocco Siffredi is known for his "rough sex" movies, including scenes during which he spits on and slaps his partners. Female co-stars adore him, though, saying he pulls extraordinary performances from them.
Siffredi's not always the aggressor: In his more than 450 adult and numerous mainstream performances since 1987, Siffredi has played submissive characters and gay men, and once even appeared in drag.
Today, the 48-year-old "Italian Stallion" is an icon in the industry and a cult hero in his native country. He and his wife Rosa Caracciolo, with whom he starred in Tarzan X: The Shame of Jane (Butterfly Motion Pictures, 1994), own not only production company Rocco Siffredi Produzioni, but also Rocco's World Caffe, an Italian eatery in the heart of Budapest. Siffredi also stars in Ci pensa Rocco [It's Up to Rocco], a primetime Italian TV show in which Siffredi helps couples reignite passion in their relationships.
Despite his sometimes rough sexual antics on-camera, Siffredi most often is called a "romantic" leading man. YNOT Europe was curious about the apparent dichotomy.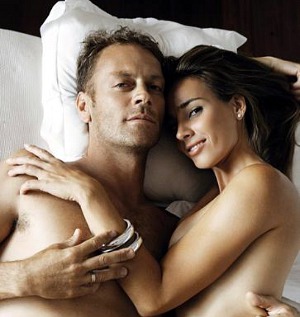 YNOT Europe: How did rough sex enter the equation?
Rocco Siffredi: Rough sex goes back a long time ago. My first experience was with my English girlfriend. I was 22 years old. During sex, she slapped my face. I did not understand why she did, so I slapped her back and she came. Since then, I have never stopped experimenting with this kind of sex.
The only thing I know: Every woman has one moment during sex when she loves to be fucked good, really good. The secret is to be able to know and understand when is the right moment.
When did you start directing porn films, in addition to acting in them?
I have been producing since 1993, and for a couple of years I stopped acting. [Ed.: Siffredi retired from performing in 2004, explaining that he did not want his career to affect his two young sons. He continued to direct, and in 2009 returned to performing after becoming disappointed with the on-camera presences of other male adult actors.]
The reason why I choose direction is to shoot more in my personal style, just like every director. They put their personalities into their movies and I put mine into my movies.

The reality-TV show, Ci pensa Rocco, is quite a departure. How is that working out?
I love to do teaching, and it's a great opportunity, doing reality TV.
Yet you were worried that It's Up to Rocco might be too racy even for an Italian audience.
In Italy, we have the pope, and the influence of the church is really strong. I don't know if they will even let me keep doing this.
In addition to films and reality TV, you have opened a restaurant.
Yes, I have opened my restaurant, Rocco's World Caffe. The first one is in Budapest, and I plan to open different other places all over the world.
I feature a good wine made by Formula One pilot Jarno Trulli. He came from the same place in Italy as me, and we are friends.
What has working in the adult industry taught you?
It can fuck you up easily. Most of the actors cannot handle the stress and use drugs, which for me is absolutely no way. I never have used drugs, and actually I don't like drugs at all.
So the Rocco Siffredi we see on film is all natural?
Some people ask how I manage to look absolutely natural. It's because I have a lot of passion, which my fans appreciate. They say, "It looks like you like what you do." Well, I put my soul into the business, and I like that this is visible.
What are your goals for the future?
My goals are keep putting the same intensity into my production company, Rocco's World Caffe, and my reality-TV show. The second season of Ci pensa Rocco will provide 12 new episodes.
My goal is to keep going on giving 100 percent, like always.
Comments are closed.