Rocco's Porn U: What Should I Major In?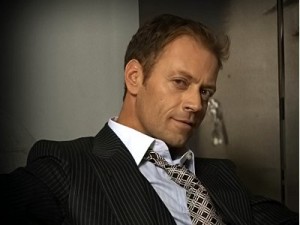 BUDAPEST – As you've no doubt heard, porn legend Rocco Siffredi has opened up a school for aspiring porn performers, along with a companion reality television show called "Siffredi Hard Academy."
Not surprisingly, the school reportedly has been flooded with applicants, presumably ranging from the serious would-be porn students to curious thrill-seekers who might not even want to work in porn, but wouldn't mind going through what they imagine to be a pretty pleasurable educational experience, even for those who eventually flunk out.
Now, to be honest, most of what I've read about the school has come in the form of web pages translated by online translation tools, so I'm not 100% certain of all the details.
I did, however, spend over 14 years in the American higher education system, very nearly acquiring an undergraduate degree on several occasions. As a result, I know how this college stuff works, whether it's "Porn University" or my almost alma mater in rural Arkansas, Pea Ridge Community College (home of the Fighting Mound-Builders).
My assumption is Porn University, like other universities, is divided into colleges which focus on various areas of pornographic study, each led by academics who are expert in the relevant field at issue. So, presumably, at Porn University you'll never have some guy who has never sunk his face between a woman's thighs serving as the Dean of Cunnilingus, or a straight man teaching Fundamentals of Gay Sex 101.
While I have yet to receive my application, I'm already nervous about applying. For starters, I'm kind of old to be going back to college, and I worry many of the non-MILF female students might be hesitant to have me as a study partner – you know, unless they have need of an overweight, middle-aged tutor to help them with their Chubby Chasing 203 homework, or to prepare for their one-on-one seminar with visiting professor emeritus Dave Cummings.
Assuming I get accepted to Rocco's prestigious 'sinstitute' of higher learning, the first big issue I have to tackle is the question of my major – and just like many new students entering traditional universities, I'm feeling a little overwhelmed by my choices.
From a career-building perspective, Anal Sex seems like a solid choice of major, given how many porn scenes include some manner of ass-ramming. I mean think about it; not only do most 'mainstream' porn movies contain at least a little anal in them these days, but you have whole video lines dedicated to anal – not to mention gay porn, where I think it's safe to say there's a fair amount of butt buggery taking place, as well.
Then again, Oral Sex has always been a favorite of mine, on both ends of the equation. The one thing I'm not sure of is whether I'd be expected to learn to effectively fellate a penis as well as honing my pussy-eating skills.
Don't get me wrong: I'm not opposed to expanding my pornographic skill set or increasing my qualifications as a potential gay-for-pay performer, but I do worry about video from my Cocksucking Basics course winding up on the internet, where it would inevitably be discovered by my socially-conservative father, leading to a very uncomfortable Thanksgiving in which he pretends he's never watched his son suck dick, and I pretend not to know his TwinkieTube screen name is PapaFapper69.
Speaking of 'daddies,' I'm also drawn to a number of the elective specialty courses offered at the university's Sean Cody College of Homoerotic Studies, although I recognize I'd have to complete a number of prerequisite course before I'd be allowed to enroll in something as advanced as Leather and Lust 402.
For all my optimism, I'll admit to being somewhat disappointed by certain Porn University policies. While it's not a particularly big deal, for example, it does bug me there's no mechanism for testing out of prerequisites like Masturbating On Camera 101, because I already have enough practical experience in this area I don't feel like I should be subjected to what would amount to a remedial course for me.
To be fair, I'm sure it's hard for Porn U to accept my experience in jerking off on camera to an audience of substantial size, considering the only reason it happened was I accidentally downloaded malware to my laptop, through which some hacker took control of my webcam, then piped a live stream of me spanking it to enormous video screens in some airport in Lisbon.
Still, whether I was aware of being watched or not, the point is I was on camera, masturbating, and did bring the act to a successful (if somewhat unfortunate for my couch cushions) conclusion.
I'm getting ahead of myself here, though; before any of this can be relevant, I have to get accepted to the school – which is going to be pretty tough if each year's class is comprised of only 21 students, only a third of whom are men.
Here's hoping Porn University's inaugural year is an enormous success, allowing for growth in its student population, expansion of the physical campus and – eventually, hopefully – resources sufficient to recruit a decent basketball team.
Hey – don't laugh: When it comes to certain highly-effective college basketball recruiting techniques, I think it's safe to say Coach Pitino would have nothing on Professor Rocco!
Comments are closed.