The Season to be Jolly 'Tis – With Star Wars Sex Toys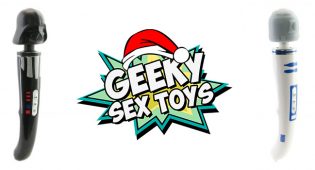 BRISBANE, Australia – It's Christmas time again, when so many us are asking "What can I get for the masturbator who has everything?" or "Isn't there at least one butt-plug on the market which has an English accent?"
Well, this holiday season you can add some spice to your favorite adult novelty-aficionado's life with pleasure products from a galaxy far, far away (or from Down Under, at least) with these brilliant Star Wars-themed sex toys.
Yes, whether your sexuality trends to the dark or light side of the force, Geeky Sex Toys has your intergalactic kink covered.
Even if your G-spot is harder to find than a vulnerable thermal exhaust port on the Death Star, find it you will with help from your trusty droid-sidekick, the R2-V2 body wand. And, speaking of thermal exhaust ports, what better way to stuff your own than with this handy C3-Plug anal toy?
Are you doing battle with the forces of dull, uninspired dildos? Arm yourself with the glow in the dark might of an LED laser sword dildo – also available in green or red, because match better with your new Dildoda they will.
If you're more of a Dark Side kind of guy or gal, you can declare your allegiance to the Emperor by marching alongside the Vibe Troopers – which you could do under the leadership of the great and terrible Darth Vibrator, if he wasn't already sold out.
Even if your Master isn't Palpatine, he'll still love playfully whipping you with this lightweight Laser Sword Flogger, perhaps while you're being silenced by a Space Station Ball Gag. Or, to make sure your favorite Dominatrix has everything she needs to properly humiliate and subjugate your Rebel ass, you can comprehensively stock your toy box with the full Dark Side Bondage Kit.
Last, but not least, the handsome, roguish smuggler in your life will love taking his penis through the Kessel Run with the soft, penetrable Hand Solo.
Sure, it's a little disappointing there's no Jar Jar Binks "rabbit," and even more disappointing the collection doesn't include a lifelike Padmé Amidala Real Doll. But, if there's one thing we know about Star Wars products, it's that you can never count out the possibility of sequels, prequels and sequels to the prequels of the sequels – so every future Christmas will bring with it a "new hope," if you catch my drift.
Comments are closed.