tokidoki Adds Fun to Parisian Erotic Boutiques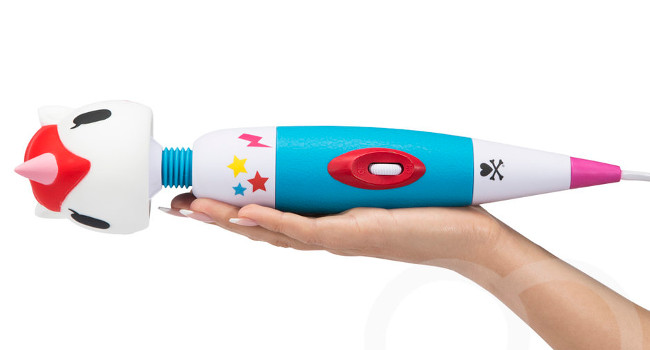 PARIS – Unicorns have been spotted in the City of Light. One of Paris's preeminent erotic boutiques now carries the tokidoki X Lovehoney Unicorn Massage Wand.
Boutique Passage du Désir is a retail group of eight luxury love stores in the key shopping areas of Paris, Lille, Marseille and Nantes. The flagship store is on Rue Sainte Croix de la Bretonnerie in the capital.
"We are delighted that Passage du Désir are now stocking the tokidoki X Lovehoney Unicorn Massage Wand," said Jade Bawa, Lovehoney's sales executive. "It's a surprising and exciting partnership, and we can't wait to see the reaction of the fashionable shoppers when they see the unicorn in the stores.
"The tokidoki Unicorn Wand Vibrator is really unique," she added. "A unicorn's head on a sex toy is not something you see every day."
The tokidoki X Lovehoney Official Pleasure Collection is a fun, colorful collaboration between the British sex toy retailer and the cult fashion-forward brand established in Rome. The range features bullets, vibrators and male strokers emblazoned with "kawaii"-style characters and has proven especially popular with 18- to 25-year-olds.
"We stock Coco de Mer and Fifty Shades Darker products already and have had fantastic success," said Patrick Pruvot, managing director for Passage du Désir we're really impressed with the support we have received from Jade and the team. tokidoki is the perfect fit for our style-savvy shoppers here in France. The Unicorn really has the wow-factor.
"We will also be running an exciting competition to celebrate the arrival of the wand," he continued. "One lucky customer will have the chance to win a wand signed by Simone Legno, the creative director and co-founder of tokidoki."
For more infomation about the tokidoki X Lovehoney Official Pleasure Collection, contact Jade Bawa or Lovehoney's trade team.
Comments are closed.