Sophie Dee in Mainstream Horror Spoof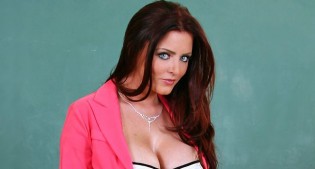 LOS ANGELES – Buxom Welsh adult performer Sophie Dee makes her mark on the mainstream big screen in the Marlon Wayans horror-flick spoof A Haunted House 2.
Produced by IM Global Octane and distributed by Open Road Films, the comedic sequel to 2013's financial success A Haunted House debuted April 18 in American theaters. After its first weekend in general release, the film ranked No. 5 at the box office despite a thorough trouncing by critics.
Dee, under her Hollywood name Kirsty Hill, portrays "Hot Coed" alongside the film's stars, Marlon Wayans, Jaime Pressley, Essence Atkins and Cedric the Entertainer. Wayans plays Malcolm, who exorcised the demons of his ex-wife in the original film and now finds himself starting fresh with a new girlfriend and her children. The family group moves into a new home only to discover it, too, is plagued by bizarre paranormal events.
"This was an incredibly fun cast and crew to work with," Dee said. "I've been incredibly busy with more films, but I thoroughly enjoyed my time working on this one."
Dee, as Hill, also is slated to appear in Danny Glover's upcoming comedy Bad Asses. She recently appeared in the mainstream comedy The Hungover Games and currently is filming a mainstream thriller, Criminal.
Comments are closed.