Spend Your Christmas with Virtual Reality Bangers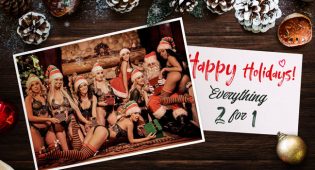 Christmas is a magical time of the year during which every, even the most grumpy person can open up to the magical atmosphere felt in the air and start giving instead of just taking. Since this festive season is also being an ending in many senses of the word, it is a time of wrapping up everything that has happened in the last twelve months, as well as a fantastic occasion to appreciate all that has been done during that period of time. Naturally, same situation applies to the entire adult industry as well – meaning that all the fans of such contents should be ready for some great savings during Christmas.
Being a perfect example of that, Virtual Reality Bangers, one of the premium creators of adult movies in virtual reality, have just recently announced the full package of benefits that they have provided for their fans on that occasion – meaning not only their prices going down until the end of the year, but also some entirely new opportunities for their members. Starting with a huge BOGO (buy one, get one) offer this year, and at the same time letting their members to purchase a lifetime subscription for the first time in the history of the company, the producers want to appreciate the hard work and loyalty of their partners, affiliates and fans, running a 2-week-long promo and releasing a very special VR porn movie on that occasion.
"2018 was a long year full of hard work, and I can't even describe how grateful I am as the owner of VR Bangers for all this effort that both our affiliates and members have given to us lately," says Daniel Abramovich, the CEO of Virtual Reality Bangers. "This latest promo with reduced prices is not a typical discount that we usually do – like on, e.g., the Black Friday – but more like a token of our appreciation for everything that's happened during these last 12 months."
Starting from December 20, both every member and the newcomer to VRBangers.com can take advantage of a "two for the price of one" deal, saving some cash on the premium subscription in the makers' service. From that day until the end of the year, every person willing to get (or extend) his (or her) access to some premium VR porn experiences can get the membership for two months for the price of one, six months for the price of three and two years for the price of one year. What is more, this year the VR Bangers have also unlocked the lifetime subscription for their members, which is an entirely new option suitable for everyone who is determined to stay with the firm for years to come.
"Lifetime membership is not an easy decision, but according to our community speaking up on our recently released VR porn forums, it is a highly-anticipated option, and we are really proud that so many people have shown their interest in it," adds Igor Zhivago, the Marketing Director at Virtual Reality Bangers. "On top of the promo, we have also released a very special VR porn scene with not one or two, but 8 beautiful VR porn stars – since there is a whole lot of action inside of this VR porn film, it will be released in two parts: one on Christmas Eve and second one January 1st 2019, as a gift from us to our fans for the New Year."
The newest VR porn orgy called the Santa's Naughty Elves is an almost two hour long scene being released in two pieces – as a VR Bangers' gift for Christmas and New Year. With 8 incredibly beautiful pornstars doing their best to fulfill the greatest sexual fantasies of the producer's community, the VR porn film has also been an example of the studio's cooperation with other manufacturers from the industry – the girls inside the VR porn film have been equipped with incredibly creative sex toys from the latest collection of self-warming dildos from SVAKOM (https://www.svakom.net/), which could be some perfect gifts for the period of snowy winter and even the Christmas itself.
To see the promo on your own eyes, make sure to visit VR Bangers' main page over here – and going over here will allow you to become the member of their premium community straight away.
Comments are closed.