Tanya Tate: Art Imitates Life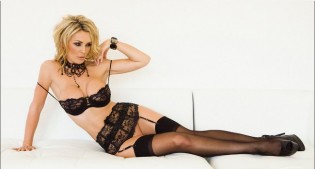 LONDON – With her lovely face, green eyes, stunning body and can't-miss-'em 34DD breasts, award-winning MILF performer Tanya Tate is a XXX force of nature — both before and behind the camera. In addition to her notoriously cheeky sexual roles, Tate also is a director, a publicist and a cosplayer.
YNOT Europe caught up with the Liverpudlian to explore what makes her tick.
YNOT Europe: How did you get into the adult industry?
Tanya Tate: I was working in an office and wanted something more exciting in my life. I watched an adult movie and I decided I wanted to try [performing].
I had some sexy pictures taken and sent them to all the UK production companies. They liked me, invited me to London to shoot, and that was the start of my career.
What have been the highlights of your career to date?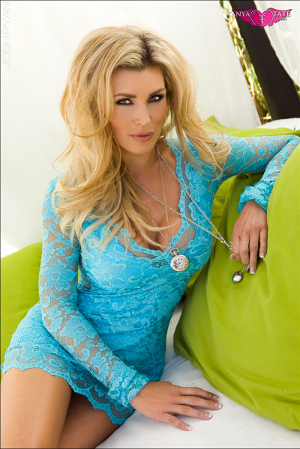 There have been so many. I have been very lucky with my adult career, in that I have surrounded myself with good people who have helped me.
Some highlights include taking over the publicity company Star Factory PR, launching my very own websites TanyaTate.com and JustaLottaTanya.com, and having my very own Tanya Tate Fleshlight made from a mold of my intimate parts.
This year alone I won a major MILF of the Year award, was featured in the mainstream documentary Aroused by Deborah Anderson and was the cover model for FHM magazine in Turkey. I also recently filmed a mainstream reality-documentary for Channel 4 in the UK.
Every time I think I have hit a highlight, something new comes along and just blows my mind.
You really created a stir with Tanya Tate's Sex Tour of Ireland. Are you still hearing about that?
Oh my. Sex Tour of Ireland was for Television X in England, an adult reality series in which I traveled around Ireland and "auditioned" lads to see if they had what it took to become a porn star.
One of the fellows who wanted to have a go was an Irish pro athlete: Gaelic Athletic Association hurler Greg Jacob. He used his hurling stick so well I invited him to London to try out for Tanya Tate's Casting Couch, a series exclusive to my personal website, TanyaTate.com.
When Tanya Tate's Sex Tour of Ireland aired, the press went wild with stories about my movie. It was a very big scandal — a XXX adult star coercing Irish men into having wild sex. I have to say all of the men came very willingly!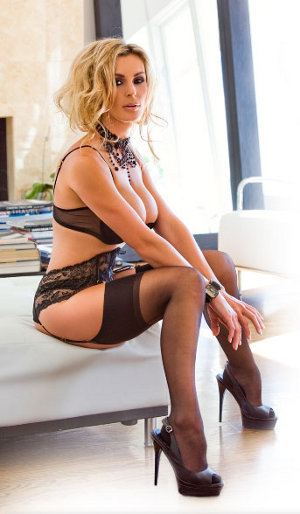 Sex Tour of Ireland ended up winning both a United Kingdom Adult Producers Award and a SHAFTA award for Best Reality Series.
Is it true you're a big fans of graphic novels and the culture that goes with them?
Oh, yes. I am a huge comic book and superhero fan — so much that I actually cosplay [costume play] as the characters at conventions.
I spent five days at San Diego Comic Con this year, and I loved it. I came back with loads of goodies. I even have a geek entertainment blog, JustaLottaTanya.com. There people can see what I get up to outside of adult entertainment.
I think people are surprised by who I am when I'm not on a porn set. They see me very glam and sexy in my naughty movies, but when I am home I watch Hammer horror movies and read comics … in lingerie.
You are now making a name for yourself in girl-girl videos. Is that a professional move, a personal interest or both?
It really is a little of both. A lot of that decision is based on wanting to focus more on directing. I've directed for Penthouse, and recently I have been making a home at Filly Films with my Lesbian movies. It's a very organic move to where I want to end up.
I really love sexy videos and working with beautiful women, which as a director I can control. I hand-picked my scene co-stars for the movie Tanya Tate's College Cuties Seduce MILF Beauties, which features XRCO MILF of the Year Veronica Avluv with me.
I also write the scripts, so it gives me a chance to act out some of my personal fantasies with hot girls. That makes it both professional and personal.

How much of a distinction do you draw between your on-screen persona and your real self?
That's a tough question, because on one hand all the concepts and set-ups in my Filly Films movies come from my mind. Tanya Tate's Casting Couch series, in which I audition lads, came from me.
I can be a very dirty girl within the boundaries of making an adult film. On the other hand, I live a very quiet life that consists of staying at home and reading books.
Where do you hope to be 10 years from now?
Directing and still enjoying my work!