TrafficStars Appoints Anna Blaivas As Sales Director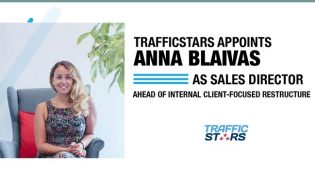 Limassol, Cyprus – TrafficStars, a powerful self-serve ad network and ad exchange, is intent on ensuring its position as the industry leader in client relationships. As part of its new client-focused strategy, Anna Blaivas has been appointed as Sales Director of TrafficStars.
Blaivas, previously Head of Publishing at TrafficStars, has been promoted into this new position due to her commendable experience and achievements during her time with the company.
Blaivas recognised the opportunity for TrafficStars to set a new industry standard in client relationships; an offering which clients have communicated to us that is an area which can be improved across the entire industry. As the first move in her new position, Blaivas has implemented a complete restructure of the Sales and Support departments to ensure that TrafficStars can comprehensively support clients by proactively identifying opportunities to grow clients' revenues further.
Teams within the sales and support departments have now been segmented to ensure each client receives personal, hands-on and dedicated support to help them grow their profits with every campaign.
This is the second major move by TrafficStars to spearhead a change in how relationships are nurtured in an industry. Online chat support for every client has already been deployed to make it even easier for all clients and partners to find help, support and answers to any queries they may have – all directly from within the client's dashboard.
"I'm very excited to implement these changes as part of my new role as Sales Director. I'm very confident that our more streamlined focus on accounts will help increase profitability for our clients and will be welcomed by all of our partners," said Blaivas. "TrafficStars continues to grow and evolve and our focus on client relationships is just one of the many ways that we are going to keep working to establish ourselves as the number one Ad Network in the industry."
Blaivas continued, "We are further investing in our RTB offering, an area which I believe will keep growing at a fast page in our industry and provide an even stronger way of monetising traffic."
Speaking of his decision to promote Blaivas into this new role, Managing Director Peter Rabenseifner commented, "This was a very natural progression for Anna to transition into the Sales Director role. She understands the industry well, has built up a strong network of clients, and most importantly she is passionately determined to drive TrafficStars to its full potential."
TrafficStars is also actively looking for two dynamic and ambitious business development managers, as the team further expands to meet increasing client demand and take a much more proactive approach to nurturing clients and their portfolios. Visit the TrafficStars website to see all open positions.
Every single TrafficStars account is assigned a direct, dedicated and expert account manager. Contact support@trafficstars.com to speak with yours today, or to get started with TrafficStars.
Comments are closed.