UK Performer's 'Sex Tour' Frightens the Horses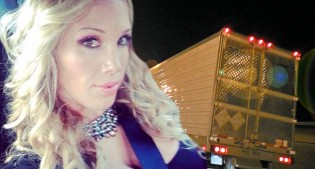 LONDON – When confronted by a young woman scandalized by two gay actors openly expressing affection for one another, actress Mrs. Patrick Campbell famously replied, "Does it really matter what these affectionate people do, so long as they don't do it in the streets and frighten the horses?"
MILF performer Rebecca More is frightening the horses, as well as British politicians and residents along the byways of her brazen "lay me in a lorry" sex tour of the UK.
More than 2,000 men, women and couples have applied to participate. Only 20 will be selected to be part of a special broadcast on Television X. So far, More has made stops in Birmingham, Manchester and Leeds.
Although More is unabashed about praising the satellite network and her profession, local residents and politicians call the tour a "disgrace."
"I think there should be a legal enquiry by local authorities into this from a public health aspect," Birmingham Labour MP Khalid Mahmood told the Daily Record. "It obviously sends out the message that this kind of thing goes on in Birmingham. That's not the right message for the city to send out, as it creates a negative image of Birmingham."
Leeds residents spoke out, as well.
"We can't confront what happens in a van, but I would urge the local authority to ensure that it doesn't in any way affect our communities and young people," said Thomas Richards, 31. "It's outrageous and a disgraceful way for people to degrade themselves.
"It hardly promotes safe sex, queuing up in a line with a load of strangers to get your end away," he added. "I'm surprised this is even allowed. It's bordering on prostitution."
The tour is set to finish Oct. 25 in London.
Comments are closed.