YNOT Europe's Exclusive Interview with Vittoria Risi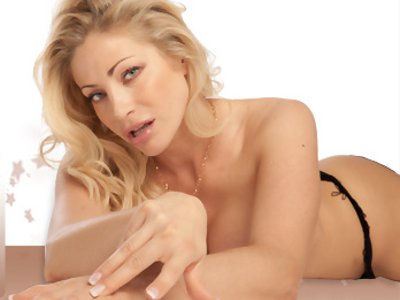 YNOT EUROPE – Vittoria Risi is currently the most popular star in the Italian erotic landscape. Painter, actress, Victoria is a woman of many facets and innate kindness. She goes out of her way to dedicate time to interacting with her fans, especially when she is besieged at public events. She was kind enough to give YNOT Europe an exclusive interview during one of her brief rest periods.
YNOT EUROPE: You are one of the most popular porn stars in the public view. How do you maintain such a good relationship with your fans? At misex in October in Milan, I was struck by your kindness.
Vittoria Risi: The people who follow me, whether men or women, deserve my kindness and hospitality. The public and the fans gave me a lot. I feel I owe them a desire to improve in my profession, and they educate me about their desires.

You portrayed Moana Pozzi in a film that is going to literally steal the show. Many have called you the feminine to Rocco Siffredi's masculine. Do you think of yourself as the queen of Italian porn?
No one can anoint themselves the queen of anything. I have tried to do important work in the sector, and that has brought me a certain amount of fame. If anything, I would have to say I am sometimes amazed by that. Fans continue to show their appreciation and "devotion" even in areas that go beyond my profession as porn actress.
You are living proof of what it means to be an artist. From your first contract with the website DeltaDivenere.com, you have undertaken your work with consciousness and will. And you have other artistic interests, such as painting. How do you reconcile both?
Painting and my profession as a porn star are two things I want to keep separated. In fact, I never take my paintings to adult trade fairs. But they are alike in that the creativity I put into my shows, my paintings, I want to expose in only culturally responsive in areas. Unfortunately, there are people with preconceptions about the value and the depth of my work. The paintings are best viewed in a gallery. During the exhibition at the Casinò di Venezia, critics pointed out that I have a well-defined and personal style. That is the fruit of academic art studies. This passion for painting will go on for the rest of my life, even after I stop performing in porn.
Recently you signed a contract with Pink'o. What are your impressions of the company, which is one of the largest adult content producers in Italy?
I have the highest respect for all people working to make great art, and the Italian production company boasts major international collaborations — and by the way, Pink'o is the first in Europe to have produced a film in 3D. I am part of a team that stands out, and they are fair.
You have just launched a new website through which your fans can keep in touch with you. What do you think of the internet as a means of promoting your business?
While not personally attracted to the internet, I must admit that as a means of promoting it is essential and indispensable, especially for the kind of immediacy it allows. It seems a paradox but it becomes ubiquitous. Incredible!
What do you think of porn on the internet? Will content-sharing sites like YouPorn result in the death of the studios, or will making such sites partners in content distribution — by streaming porn onto PCs in every home — be the salvation of the industry?
I think it's an inevitable consequence that we have a future of streaming on the web. Those who do not adapt their productions will, if anything, become "unavailable."
We know that several of your profiles on Facebook have been closed [because they were accused of spamming]. Can you tell us briefly what you think about this and what would you say to [Facebook founder] Mark Zuckerberg about it if you got the chance?
Unfortunately it is impossible to trace an email address accurately and then go back to the big egos that they hide behind false profiles on Facebook and hold them accountable for their actions in sending sometimes very offensive spam. I can still rely on my official website for the dissemination of my image on the net. I would like to make it clear to those who continually make me close my profile that I was not the one behaving badly.
What does your personal future look like?
For the future I am looking forward to several opportunities for me to do even more, in both porn and painting. The Venice Biennale is coming, no? I can't reveal anything before it happensAnd then does not reveal anything before it happens. That would bring bad luck, wouldn't it?
Comments are closed.