XR Brands Promos 'Tom of Finland' Film Fest Debut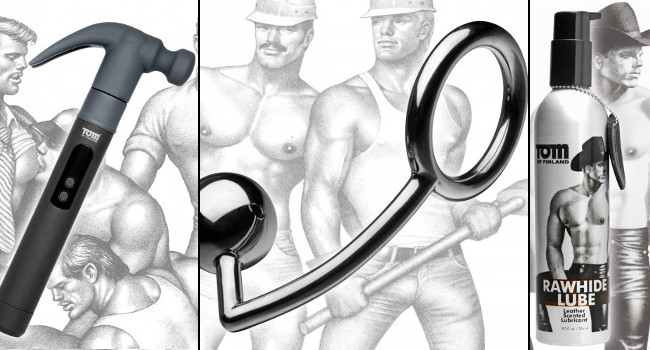 Tom of Finland, a biopic documenting the life and work of celebrated artist and gay icon Touko Laaksonen, will premier April 23 during the annual Tribeca Film Festival in New York.
Best known by his pseudonym Tom of Finland, Laaksonen created thousands of homoerotic images of muscular men that continue to fuel gay fantasies. Laaksonen's work helped energize the gay liberation movement.
"Tom and his work have always been appreciated by his fans in backrooms and bedrooms, and he is also treasured on the brightly-lit walls of museums and the bookshelves of university libraries," said Durk Dehner, president and co-founder of the Tom of Finland Foundation. "Now, with this feature film, Tom's messages of equality and freedom are being shared with even wider audiences.
"Everybody loves Tom, and he gives full freedom to our sexual fantasies," Dehner added. "People want what he represents as part of their lives — their whole, complete lives — night and day."
To celebrate the film's festival debut, XR Brands is offering a 10-percent discount on its award-winning Tom of Finland Pleasure Tools. From April 21-30, customers may use the bonus to build buzz on the store level by stocking the sex toy collection inspired by the iconic artist's historic erotica.
Products included in the promotion are Night Stick and Hammer Vibe, Rawhide leather-scented lube, Master Lock and Key, and the Steel Cock Ring with Anal Ball.
"Tom of Finland Pleasure Tools set a precedent and turned iconic pieces of art into physical forms that fans could enjoy in the flesh, and it was an honor to create this special brand with the Tom of Finland Foundation," XR Brands Director of Sales and Marketing Rebecca Weinberg said. "Tom of Finland Pleasure Tools is a perfect complement to Tom of Finland's legacy. Never before has a body of artwork been transformed into such a physically and visually stimulating series, and we're so excited to see his life portrayed on the big screen."
From design to packaging, every element of the Tom of Finland Pleasure Tools line was made to reflect the artist's aesthetic while giving fans tangible pieces of erotic art. Like Tom of Finland's illustrations, the products and their artful packaging are playful and cheeky while maintaining the artist's hyper-masculine and artistic look.
For more information about XR Brands and its Tom of Finland line, visit XRbrands.com.
Comments are closed.