3D Printing: Not Just for Forensics Anymore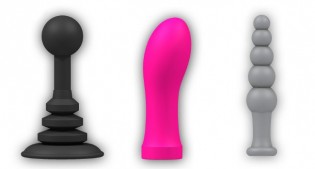 DIEPPE, France – Customers bypassing adult toy retailers and manufacturing their own sex toys at home raises some serious issues for the adult novelty market. On the plus side, manufacturers like Doc Johnson and Cal Exotics may be able to capitalize on the market by creating downloadable, print-at-home products. The designs could be sold in their online stores, obviating the need for shipping, warehousing and manufacturing costs. Of course, piracy is a possibility.
Porn studios and webcam girls also could profit: Imagine offering fans a downloadable 3D model of a porn star's privates on the same day her new video debuts. Imagine a webcam girl scanning her assets and offering the results to fans who have 3D printers. Add the ability to install web-controlled bullet vibes into the 3D toys for the webcam girl to activate — for a premium, of course — and the revenue possibilities are mind-bending.
At the same time, printing sex toys at home using 3D printers could take a bite out of retailers' bottom lines. Once the technology catches on (and becomes more affordable), that's a very real possibility.
To get a handle on the potential of 3D home printing, YNOTeurope.com spoke with Thomas Sancelot, the founder of SexShop3D. Sancelot's company is among the first to offer 3D adult toys online.
YNOT Europe: How did you come up with the idea to offer downloadable designs for 3D sex toys?
Thomas Sancelot: We are neither the first nor the only ones to think about printing sex toys in 3D, but when I first got the idea I had never heard of it before.
I did not know much about 3D printing. I was hearing about it on the news like everyone else and thought it was only for industries like automotive parts or medicine. Then one day I saw a 3D printer at a client's house. I was very interested in it and started asking questions. I wanted to know why he had one at home and how much it cost him.
He just wanted to find designs of fantasy characters and print them on his expensive 3D printer. This is when I realized I could find a niche in a domain that will grow very quickly. 3D printing is already very popular and, as any new technology, it will improve and become cheap enough to enter the homes of more and more people.
Why sex toys?
Sex toys came to my mind for many reasons. They are and will always be popular. By opening a sex shop offering 3D products, we are only taking sex toys to the next level. 3D printing allows endless possibilities. Imagination is the limit.
To make this concept work, there has to be a consumer base with 3D printers. Is there? Do people have them at home, or do they have to "sneak print" at work?
There are not enough 3D printers out there today. No one in my family owns a 3D printer, for example. But some people have a 3D printer at home, and more people buy them every day. We are entering an industrial revolution.
My advice? If you "sneak print" at work, don't forget your copy in the printer unless you are going for the 3D version of the joke "my bare ass on the copy machine."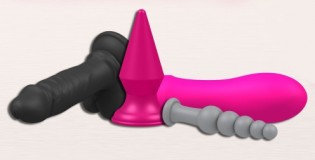 What about the designs: Do you create them in-house?
I hired a 3D designer from Singapore who did an excellent job. I am about to give him more work, as I want a big catalog of sex toys for SexShop3D. I want it to be at least as exhaustive as a regular sex shop.
Can all 3D printers print your designs?
Yes. All of our designs come in an STL file, which is the most common file format in 3D printing.
What sort of response have the products generated? What sells best?
The website is three weeks old, and we've already sold many designs — a good amount of them, probably, to journalists, but the interest is there.
We mainly get two reactions with this project:
People are surprised and find printing 3D sex toys amusing. The concept is funny, unusual and new, but it also emphasizes the idea that sex toys are still a taboo subject for some. Our website allows them to print their sex toys from home without anyone knowing.
People are convinced this fills the need of some 3D printer owners, and this will definitely reshape the sex toy industry within the next few years as the technology grows.
The Big Black Dildo is the item we sell most often.
Who buys your products?
It is too early to tell; we do not have enough data. We have to wait a little to analyze social media and orders to see who our customers are. Who I hope is buying our products is any sex toy fan with access to a 3D printer.
Can the 3D printing model be extended to larger, more complex sex toys?
It can be. As of today, mostly dildos can be printed in 3D due to the materials used to print them — usually hard plastic.
The first designs tested public interest, but we wanted at least one creative sex toy among the first ones so we created the Stick Shift. It's a sex toy in the shape of a stick shift — for car enthusiasts who fantasize about playing with the stick.
We wanted to show that we offer all kinds of sex toys, especially the ones people never thought of before. We will regularly introduce new sex toys — not only dildos, but the full range. Because you can print in virtually any material, we want our product base to be very large and original.
3D printing is always improving. And let's not forget 3D scanning that will soon allow us to offer designs scanned directly from your favorite performers, female and male.
Is 3D sex toy printing the beginning of the end for the novelty manufacturing industry?
I believe SexShop3D offers advantages to both the retailer and the consumer. First, the hassle-free model of our business is enviable because we have no inventory and no stock. We sell digital products that customers receive instantly upon purchase. We create designs and put them up for sale; that's all we do. We do not worry about delivery or hiring customer service. Everything is automatic.
From a consumer point of view, I believe our services will be favored thanks to the discreetness, speed and comfort of what we offer as opposed to the industry in its current form.
I don't think our website can end the sex toy manufacturing industry, because that would mean 100 percent of sex toy enthusiasts own a 3D printer. But we are offering advantages the current industry can't, and this will definitely reshape it.
Comments are closed.