A Toy Box for Grownups Travels to Europe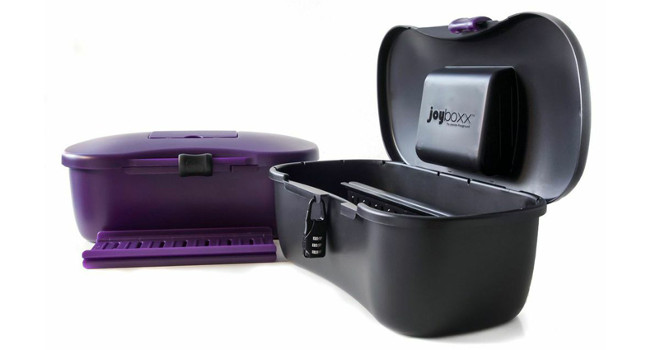 SEATTLE – In October, an American manufacturer will present its one-of-a-kind products to Europeans for the first time.
Passionate Playground LLC makes the hygienic sex toys storage system Joyboxx With Playtray. The adult toy box is designed to fit inside most nightstand drawers and hold most adult toys, even the large ones for males. Ten hidden ventilation ports allow moisture to evaporate if a toy is put away wet.
Made of BPA, PVC, Phthalate-free, food-grade plastic with an antimicrobial additive to prevent germ growth, Joyboxx also features a USB-sized cord hole for discreet toy charging and an easy-access external compartment for small items. It's 100-percent lockable and dishwasher-safe.
Playtray is an innovative new sexual wellness accessory with four functions: a sex toy "coaster" to protect people, toys and furniture from stains, dust and hair; a wash-and-dry rack and a toy separator for use inside Joyboxx. Playtray comes inside Joyboxx and is also sold separately.
Joyboxx with Playtray is affordably priced and available in two colors: black with a purple slider lock an purple with black slider lock.
"We are getting emails from retailers around the world, letting us know they love Joyboxx, it sells well and they want to be included on our website as a retail source," said Joyboxx inventor and Passionate Playground Chief Executive Officer Deborah Semer. "We are really bringing Joyboxx to the world, so it's time to meet the world at the biggest global trade shows. It's very exciting."
First stop on the Joyboxx world debut tour is the London Alternative Market, a major fetish and alternative lifestyle shopping event that is part of the London Fetish Weekend. Consumers can buy a black or purple Joyboxx directly and meet the inventor on Saturday Oct. 3 at the Galleon Suite in the Royal National Hotel at Russell Square.
The storage system also will be on display at eroFame in Hanover, Germany, Oct. 7-9. Joyboxx will be one of the featured products presented by award-winning Eropartner Distribution.
"Eropartner lives up to their name as a fantastic partner to Joyboxx," Semer said. "They are lovely people who produce high-quality front- and back-end resources that demonstrate their product commitment. We feel lucky to be with them."
Elcke Wieffering, senior purchaser for Eropartner, said the distributor is confident the product will captivate the European market.
"These products have completely redefined the storage and sexual wellness categories, and we encourage our retailers to capitalize on this opportunity for an essential point-of-sale purchase," she said. "No matter what pleasure product the consumer buys, they will need a Joyboxx and a Playtray to go with it."
Comments are closed.