Swiss Court: Naked Hiking OK in Alps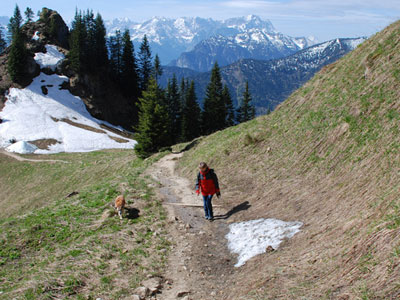 YNOT EUROPE – Appenzell, a conservative canton in northeastern Switzerland, soon may be known for more than tasty cheese and breathtaking mountain vistas. A Swiss court ruled in late May that local authorities cannot prevent hikers from baring it all in the Alps.
Until a January 2009 ordinance forbade naked hiking, the practice was particularly popular with German tourists. Among Germans, "free body culture" is an accepted lifestyle. The legendary Swiss neutrality didn't apply to the practice…until a Swiss citizen was fined $87 after an offended female picnicker reported his naked ramble to local police.
The unidentified male hiker sued to have the fine lifted. The court agreed, ruling the charge of indecent behavior too severe. Although the decision may yet be challenged by prosecutors, proponents of naked hiking hailed the ruling as a "victory for freedom."
According to another naked hiker who represented the plaintiff in court, "This court decision is showing that penal law is not a moral codex, and there's no way to punish nakedness in itself unless it becomes sexual harassment," the representative told AOL News.
Bern-based legal expert Daniel Kettiger explained further.
"Sometimes, police think that hiking, jogging or biking in the nude is something that goes under that [law] paragraph, and they fine people," he told AOL News. "The interpretation of the law is open-ended. If someone is nude walking in public, or sunbathing or having a picnic in the grass, that is not forbidden. If he is exposing himself with a sexual connotation and offending common sense, that is forbidden."
Opponents of naked hiking mention concerns ranging from public decency to public health. Critics often decry the practice on the grounds of offense to dignity. Others say nudity in the mountains could result in sunburn to delicate areas or the risk of transmitting tick-borne illnesses. Some have suggested establishing clothing-optional hiking trails analogous to nude beaches worldwide.
The fined hiker's representative indicated those people are missing the point.
"There are nudists' areas with fences, concrete walls, gates," he told AOL News. "It's fine for those who want to be with other nudists. But why should we be restricted when all we do is simply [dispense with] our clothes?"
Comments are closed.