Study Reveals Consumers' Adult Product Preferences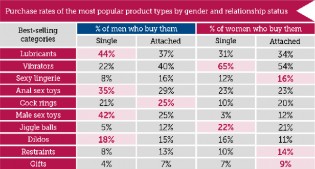 SOMERSET, England – Using one million purchases and 45,000 product reviews provided by a UK adult-products retailer, researcher Jon Millward has compiled a fascinating, in-depth view into the items most popular with consumers.
"The contents of hundreds of thousands of bedroom drawers can now be known with absolute certainty," Millward told International Business Times.
Lovehoney, one of the largest adult retailers in the UK, provided the data, gleaned from 300,000 purchases over a five-month period in 2013. Among the statistics Millward studied: sales of individual items and sales in categories, consumer product reviews, gender, age and gender identification.
As one might expect, the bestselling category was toys, with half of women buying vibrators. The company's sales were equally split between male and female customers, proving men are not as coy about using sex toys as is popularly believed. The most popular sex toys for men are "masturbatory aids," said Millward.
Other sales facts adult retailers may want to know: Women like "basques and corsets, nipple tassels and Halloween costumes," according to Millward, while both sexes buy body stockings, sex swings and remote-control love eggs with equal frequency. Also popular across both sexes are whips, floggers, spanking paddles and handcuffs.
In addition, Millward's study indicated 14 percent of women in relationships bought sex toys, compared to only 10 percent of single women.
"It is great to shatter the myth that toys are most frequently bought by single people," Millward said. "In fact, most sales are to couples looking to enhance their sexual happiness and share the toys together."
Millward's copiously illustrated report, "Down the Rabbit Hole," may be read free online.