Adelina Aránega, Pioneer of Sex Shops in Spain
[COLOR=red]YNOT Europe exclusive[/COLOR]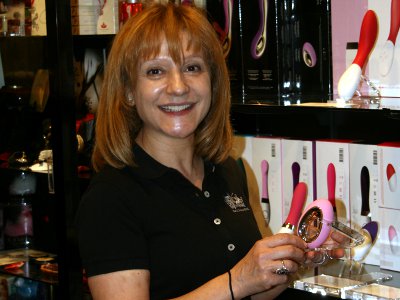 By Alejandra García
YNOT EUROPE – A little more than two decades have passed since Adelina Aránega opened Kitsch in Barcelona. The store was the first sex shop in Spain. That was in March 1978, and now….
YNOT Europe: How did you get into the erotic business? You started in France, right?
Adelina Aránega: Yes. I started working in Perpignan because they needed someone who spoke Castilian, because they had many Spanish customers. The sex shop was part of a tour that included a movie ticket, a visit to the store and the option of visiting a casino. When business slowed in France, we decided to open a store in Barcelona.
What things did you sell?
We started selling things we could offer in a kiosk on Las Ramblas: magazines like Lib, Yes, Party…. There was no pornography; we kept everything very "light," but even so the store was closed after being called a "danger to society." So, we opened another store where we offered nothing that was not available in other places.
In 1982 we won a court case and were allowed to use, for the first time, the label "sex shop." That's when we began offering material from abroad: Super8 adult films.
How did the public respond when you opened the doors for the first time on the new merchandise?
Very positively! Oriol Maspons y Luis Cantero interviewed me for Interviú, which sold a million copies per week at that time. And I remember a neighbor who lived above the shop said, "I do not want a whorehouse here." We assured him there was no sex in the store, only teaching.
You were very young, a woman and blonde. Did that help or complicate things for you?
The worst was being blonde, but that is because people have this idea that all blondes are stupid. Customers were very friendly. Some who came to the store, I knew from Perpignan.
Now you have a video store in addition to Kitsch Toys for Adults. Does it make sense to have two similar businesses in separate quarters but almost neighbors?
The two are not similar at all. The video store sells only videos, and the sex shop sells everything else — everything to increase pleasure alone, in pairs or groups.
A lot has changed about your clientele over the years, hasn't it?
Yes, much has changed because sexuality has changed a lot and now there is much more information. I remember many years ago, a man came in and asked, "Hey, can you tell me how to find my wife's clitoris?" And I showed him with a sex doll. Also, people were scared when AIDS became an issue, and they needed the kind of safer-sex information they couldn't get at "family planning centers."
Much has changed about the way women view sex and sex toys, too. Before, they came to the store because they wanted to make sex good for their husbands to keep them from cheating. Now, they come because they want to investigate their own sexuality and find their own pleasure.
What is the best selling product right now?
Fortunately people are becoming aware that there are specific toys that can be fund without endangering health. The old-fashioned dildo, for example, is now obsolete. We sell a lot of colorful toys made from hypoallergenic materials, especially vibrators and massagers. The sex toys market is adapting to new technologies: the toys are now rechargeable instead of requiring batteries. Another interesting and popular item is the Mooncup, a reusable menstrual cup that offers a hygienic alternative to tampons.
Young people don't experience the shame their parents did when they enter a sex shop, do they?
Young people experience sex as something natural, without much prejudice.
How did you get the idea to organize home parties?
It happened in the '80s, when home parties were so popular for makeup and home goods. Almost all sexologists say in-home "parties" are good for people, because they provide a comfortable, low-pressure atmosphere for learning. That's how Tuppersex home meetings got their start. We can take a surprising number of our products to customers' homes, because they fit in a suitcase.
Is there a difference between sex shops in Spain and those abroad?
I think some European cities are less liberal than others, so I do not like the term "sex shop." It suggests a dark, sad store. Instead, I prefer to call ours a store specializing in products related to sexuality, for professionals and private individuals and health professionals.
How do you envision the future for sex shops?
Online sales will grow more and more, and at the same time stores like Jugutería may become less and less relevant. But on the other hand, buying a toy online is riskier, because sex toys are items that cannot be returned.
Tell us some of the stories you've encountered over the years.
I remember one lady wanted to know if we help repair her son's wrist. Another time, back when the video store had Super8 movie booths, a customer asked "Can I mastúrbate [while I watch the film]?" I told him to make sure he had a tissue so he didn't get anything dirty. And I don't know why, but it always amuses me when customers ask us to help them find "a vibrator just for girls."
Comments are closed.